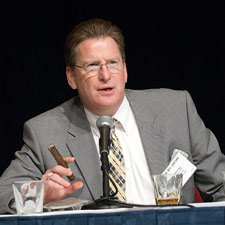 Senior features editor Jack Bettridge lead the seminar.
Big Smoke Sunday Seminars: Single-Malt Scotch and Cigars
David Savona
Posted: November 18, 2010
If you love great cigars, you probably enjoy fine spirits as well. And what trip to Las Vegas would be complete without some adult beverages? Tradition dictates that we conclude Cigar Aficionado's Big Smoke Las Vegas Weekend with a seminar pairing fine drinks with great cigars.
This year Scotch was on the menu, and Cigar Aficionado's spirits guru, senior features editor Jack Bettridge, had assembled a sextet of amazing single-malt Scotch whiskies showcasing the broad range of tastes available in this ever-popular amber spirit. As the Roll Your Own seminar concluded, the Venetian waitstaff began filling the six glasses set before each attendee with Scotch.
"Typically we only have four whiskies," said Bettridge. "This year we've blown the doors off." The energetic crowd cheered its approval of the extra spirits.
The drinks set out were Auchentoshan Three Wood, Glenlivet Nadurra, Glenmorangie Signet, Macallan 18, Bowmore 15 and Ardbeg 10.
To complete the tasting, Bettridge had help in the form of cigarmaker Manuel "Manolo" Quesada, a 36 year veteran of the premium cigar industry. Quesada was going to speak about the two cigars he brought for everyone to smoke at the seminar, a Quesada Tributo Julio and the Casa Magna Colorado Robusto. The Tributo was the first to be put to fire.
Manuel Quesada spoke about the two cigars he brought for attendees.
"Today we're smoking two cigars that are close to my heart," said Quesada. The Tributo, he said, was blended by his younger family members, the fifth generation of Quesadas. "My blend didn't win," he joked. "The young ones overruled my blend. This is a cigar of the next generation."

The first spirit to be sipped with the cigar was Auchentoshan. "It's got a lot of great color, huge body, and it has vanilla character and bread dough plus cherry," said Bettridge, after taking a sip. "And it's a good match with this cigar."He explained that Auchentoshan is a Scotch made without peat.
Peat is the signature flavor of many Scotch whiskies, but the Auchentoshan showed how a Scotch could be made in a different way. "Each area has a signature flavor, it's very typical to make something in that region that's not peaty," said Bettridge.
The second Scotch was Glenlivet Nadurra, which is a non-chill filtered whiskey. "It's flowery, very typical of Speyside," said Bettridge.
The third Scotch was Signet, which is from the Highlands. "Wow," said Bettridge, taking one sip. He and Quesada enjoyed how it paired with the smoke. It has "kind of a Snicker's bar thing," said Bettridge of the flavor.
You must be logged in to post a comment.
Log In If You're Already Registered At Cigar Aficionado Online