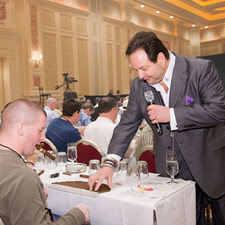 Team La Gloria's Michael Giannini helps an attendee with his wrapper.
Big Smoke Sunday Seminars: Roll Your Own with Team La Gloria
(continued from page 1)
Laughter erupted in the room. Everyone seemed comfortable with the unwritten rules of the competition: If you roll well, you are rewarded, if you roll poorly you get a good zing from the stage.
As the session came to a close, cigars were collected for review. Giannini held one up.
"I don't even know what this is," he said. "Who's responsible for this atrocity?"
Consolation prizes were given for ugliest and most creative cigars. One person crafted what looked like a space ship, another roller made an elaborate boat out of 15 cigars and someone else took the cigar, glued macadamia nuts to it, and fashioned a hula dancer. One cigar submission looked as though it had been put through a wood chipper and the re-assembled.
Rollers of these particularly funny, albeit unsmokeable sticks, received boxes of El Rico Habano, La Gloria Cubana Serie R and Reserva Figurado cigars just for making the crowd laugh.
Fletcher Welles won the best rolled cigar of the seminar contest.
But after the laughter subsided, the judges began to seriously evaluate all the submitted cigars and held up a near perfect smoke rolled by Fletcher Welles. He was presented with two La Gloria Serie R Limitada Humidors as well as two La Gloria Cubana lighters.

As Giannini handed Welles his prize boxes of cigars he said "Good luck getting that on the plane. That weighs about 100 pounds."
The audience applauded and the event was over. Some finished with a sense of accomplishment. Some failed miserably, but their attentions were now turned too the series of glasses passed out at every setting. In a few moments, those glasses would be full of Scotch, the focus of the next seminar. It would be poured for the good rollers who earned it, and the failed rollers who truly needed a drink.
Big Smoke Weekend Photo Gallery
Coming Friday!
Big Smoke Sunday Seminars
Breakfast with Charlie Palmer
Single-Malt Scotch and Cigars
You must be logged in to post a comment.
Log In If You're Already Registered At Cigar Aficionado Online