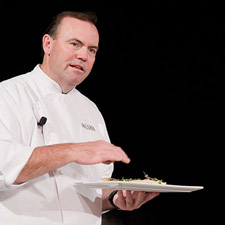 Celebrity Chef Charlie Palmer explaining the art of plating.
Big Smoke Sunday Seminars: Breakfast with Charlie Palmer
Andrew Nagy
Posted: November 18, 2010
(continued from page 2)
According to Palmer, Shabu-Shabu means "swish, swish" and refers to the swishing action that occurs when one cooks thin strips of beef in hot broth.
Before he started with the beef, he chopped kombu seaweed into boiling water. He then removed the kombu and added a bit of soy sauce. He also put in shittake mushrooms, Chinese cabbage and tofu.
Some in the audience booed as the tofu was plopped into the sauce.
"Oh come on guys!" Palmer begged. "I know you're not health nuts but it's going to be good, trust me."
Then out came his new favorite cooking tool: surgical tongs.
"These are culinary tongs, but they came from the surgical world," Palmer explained. "Surgeons need tongs to get out the guts, as do cooks."
He used the tongs to grab razor-thin strips of beef and then he gently "swished" them around the broth.
"You want to barely cook them," Palmer said.
As the session was almost complete, the audience began to pepper Palmer with culinary questions.
Palmer summed up his advice with three rules.
You must be logged in to post a comment.
Log In If You're Already Registered At Cigar Aficionado Online