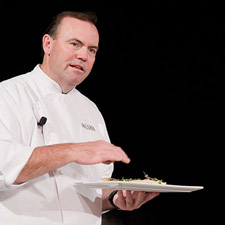 Celebrity Chef Charlie Palmer explaining the art of plating.
Big Smoke Sunday Seminars: Breakfast with Charlie Palmer
Andrew Nagy
Posted: November 18, 2010
(continued from page 1)
He poured red wine into a saucepan that had a bed of pears in it. He then added a zested lemon peel, star anise and vanilla bean.
"Now some people say you can't poach pears," Palmer said. "But I just did."
Palmer then prepared to plate the dish by combining salad greens, hazelnuts and chopped parsley in a mixing bowl. This mixture was then placed on top of the pears, and the red wine drizzled on the whole thing.
The second dish Palmer prepared was ginger poached chicken with bok choy.
"Bok choy," Palmer said, "gets kind of a bad rap because some think it's hard to cook. But it's healthy, and I think you just need to learn how to work with it."
Palmer started by placing shallots, garlic, and ginger in a deep skillet. He started with only a few cloves of garlic, and then thought twice.
"Wait, garlic's healthy?" he joked. "OK, the just put it all in." And as he dumped the rest of the garlic cloves in the skillet, the room erupted in cheers.
As he prepared the chicken for poaching, Palmer took the time to address the audience.
"There's a big difference between poaching and what my grandmother did. You can't just boil it for three hours," he joked. "That's not poaching!" His point, he explained, was that some people tend to cook chicken for too long because they fear salmonella, a fear Palmer believes can be eliminated if one buys better quality chicken.
Palmer wasted no time getting to his third dish, Shabu-Shabu poached beef.
You must be logged in to post a comment.
Log In If You're Already Registered At Cigar Aficionado Online