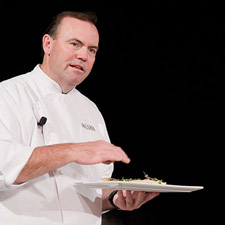 Celebrity Chef Charlie Palmer explaining the art of plating.
Big Smoke Sunday Seminars: Breakfast with Charlie Palmer
Andrew Nagy
Posted: November 18, 2010
About 500 Big Smoke Las Vegas attendees temporarily traded the scent of cigar smoke for the aroma of gourmet cooking as celebrity Chef Charlie Palmer prepared a sumptuous meal for them on Sunday morning.
Along with a basket of assorted European pastries, each guest was greeted with a glass of orange juice and a Wild Turkey Bourbon Hayride cocktail, a drink created by Blue Smoke restaurant in New York city, at their setting.
"This will cure my hangover, right?" joked one man as he sipped the bourbon, pear brandy, and spiced cider elixir.
Palmer was introduced by executive editor Gordon Mott, who described the cigar that the audience would get later: the Oliva Serie V Churchill Extra. The extra-fat Churchills are made in Nicaragua by the Oliva Cigar Co., and have made numerous appearances in Cigar Aficionado's Top 25 listing. After the introduction Palmer, who had shaved his signature mustache since last year's event, spoke about what the guests would be eating.
Palmer is known for his progressive style of cooking and often infuses classical French ideas and big flavors into traditionally simple dishes to create an original serving. Poaching, the act of gently simmering food in liquid other than oil, was the theme for Sunday's meal.
Amy Oxford and Shannon Mishey from Washington D.C. enjoying the Wild Turkey Bourbon Hayride.
His first course was a variation on the English "Toad in the Hole" standard.

The traditional recipe calls for sausages laid in a dish of Yorkshire pudding and is usually served with onion gravy and vegetables. Palmer chose to serve the Big Smoke guests a poached organic egg from Petaluma, California ("local and fresh is best," he said) that was laid atop a rich and tender brioche that surrounded a pork belly sausage. Hollandaise sauce infused with whole-grain mustard was drizzled on the whole thing.
As post-meal coffee and tea was served, Palmer got busy at the on-stage kitchen preparing his Mizuna salad with red wine poached pears and Maytag blue cheese.
As he cut, moved and worked at the temporary kitchen set, a video camera followed his every move, providing wonderful shots of his deft cooking techniques for the audience.
"I love this set up," a lady near this reporter said. "I like to watch his hands."
You must be logged in to post a comment.
Log In If You're Already Registered At Cigar Aficionado Online