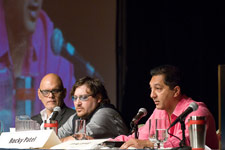 Erenesto Perez-Carrillo, Jonathan Drew and Rocky Patel address the crowd.
Big Smoke Saturday Seminars: Brand Builders
Andrew Nagy
Posted: November 17, 2010
(continued from page 2)
"Everybody in the office laughed at me," Patel chuckled, as did many in the audience.
Patel explained that it wasn't hard to change the name of his cigar because he had acquired the control he desired and was producing a product he had envisioned.
"We took complete control of the tobacco—the fermentation of it, the blending of tobacco, the way cigars were rolled, how we bought it, cured it," explained Patel.
As the seminar closed and the attendees were told lunch was now being served, some chose to stick around to get their pictures taken with Patel, Perez-Carrillo and Drew.
"All part of the branding," said one man.
Big Smoke Saturday Seminars
Top Legal Cigars of the Year
Tobacco Lands
Counterfeit Cigars
Lunch
Big Smoke Weekend Photo Gallery
Coming Friday!
Big Smoke Sunday Seminars
Breakfast with Charlie Palmer
Roll Your Own with Team La Gloria
Single-Malt Scotch and Cigars
Big Smoke Evenings
Friday & Saturday Parties
You must be logged in to post a comment.
Log In If You're Already Registered At Cigar Aficionado Online