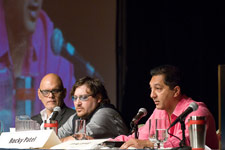 Erenesto Perez-Carrillo, Jonathan Drew and Rocky Patel address the crowd.
Big Smoke Saturday Seminars: Brand Builders
Andrew Nagy
Posted: November 17, 2010
(continued from page 1)
Perez-Carrillo continued by saying that a new brand, like his E.P. Carrillo, has the fortunate position to be able to take chances, innovate and experiment.
"You just need good tobacco, which luckily I have no shortage of," Perez-Carrillo joked.
Patel went further by saying that today's cigar consumer was comparatively more sophisticated than a smoker in the '90s.
"Cigar Aficionado has done a good job to educate the consumer," Patel said. "And cigarmakers going on tour also are personally educating consumers about their cigars, the flavors, the blends and tobacco in general."
This sophistication, Patel said, was what he thinks about when he is developing one of his many line extensions.
He then compared the cigar world to wine production. "Like wine, it's about blending now. Creating something that is new, unique and flavorful to consumers."
Newness is a concept that is right up Jonathan Drew's alley. Drew, along with his partner Marvin Samel, created Acid cigars, a brand of smokes that have been "infused," as Drew says, with natural oils, herbs, botanicals and even red wine.
Jonathan Drew, the owner of Drew Estate.
A huge moneymaker in the cigar retail world, the Acid brand is known for its artistic packaging (the logo is a silhouette of Scott "Acid" Chester), memorable cigar names and ability to defy traditional cigar norms.

"I believe if you have good tobacco and are doing something that is truly innovative ... then that's when you will get the [consumer] response," said Drew.
Mott also addressed the importance of the name of a cigar brand, something Patel knows well. In 2002, he made the decision to put his own name on the cigars he created.
You must be logged in to post a comment.
Log In If You're Already Registered At Cigar Aficionado Online