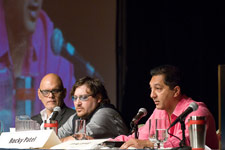 Erenesto Perez-Carrillo, Jonathan Drew and Rocky Patel address the crowd.
Big Smoke Saturday Seminars: Brand Builders
Andrew Nagy
Posted: November 17, 2010
Building a successful brand is the key part of any product strategy, especially in ultra-competitive business markets such as the cigar industry. After all, profits are made by relationships with the customer, which brand names help to secure and maintain.
So it was fitting that Cigar Aficionado addressed the topic of cigar brands in its third Saturday seminar, moderated by executive editor Gordon Mott and senior editor David Savona, by inviting three of the industry's best innovators, Ernesto Perez-Carrillo, Rocky Patel and Jonathan Drew.
Ernesto Perez-Carrillo, former owner of the iconic El Credito Cigars Inc. in Little Havana as well as the La Gloria Cubana and El Rico Habano brands, is now working with his son Ernesto Perez-Carrillo III and daughter Lissette on building a new brand called E.P. Carrillo.
Sitting to Carrillo's far left was Rocky Patel, owner of Rocky Patel Premium Cigars Inc. and one of the most recognizable faces in the industry due to the fact that he spends about 300 days a year traveling to promote his cigars and various events.
Rocky Patel talking about the decision to change his cigar's name.
"He could give George Clooney's character from
Up in the Air
a run for his money," joked Savona during his introduction.
And in between Perez-Carrillo and Patel was Jonathan Drew, owner of Drew Estate and the man behind Acid, Liga Privada and Chateau Real cigars.
Mott opened the seminar by asking what makes building a brand today different from the 1990s, when the three panelists each became a player in the world of cigars.
Perez-Carrillo, who burst onto the cigar scene in 1993 after Cigar Aficionado gave his La Gloria Cubana Wavell a high score, took the reigns.
He spoke about how in Little Havana, where his El Credito Cigars was located, people were loyal to the cigar. They wanted to smoke well, and nothing else.
"Today," he compared, "consumers expect something new from the manufacturers. It's not just about the cigar, but also the brand, the story and the marketing."
You must be logged in to post a comment.
Log In If You're Already Registered At Cigar Aficionado Online