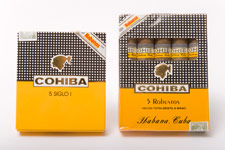 A side-by-side comparison of authentic (left) and counterfeit (right) Cohiba packaging. Five-packs with windows never existed in the Habanos portfolio.
Big Smoke Saturday Seminars: Counterfeit Cigars
(continued from page 1)
As both Savona and Mott pointed out, some counterfeiters will actually dress fake cigars in legitimate packaging, making it important to recognize typical Cuban cigar construction versus sloppy, unskilled rolling. 
"People will always tell you stories." Savona warned. "Like having a friend or family member who works in the factory."
At one point, the editors called up the image of a Cohiba 40th Anniversary torpedo with a two-toned barber-pole style wrapper. Not only did the label on the cigar not exist, but Habanos has never created a barber-pole cigar. However, the novelty factor of such cigars can be irresistible to the uninformed cigar enthusiast eager to try the forbidden fruit.
A close-up detail of Cuba's new export seal. Note the holographic sticker.
After an academic presentation of close-ups, stills, positives and negatives, Mott reprised his initial question.
"Now," he asked, "how many people think they've purchased a fake cigar?"
About four times as many people raised their hands, but Mott offered very sound advice.
"Don't buy cigars on the street. Don't buy them on the beach. Know the details of your cigar, and definitely know the price. A box of Cohibas for $80 just isn't realistic."
Although disillusioned, the crowd was able to take consolation in a few things.
Firstly, they walked away from the seminar with new information. But secondly, and more immediately, they still had very real, authentic Nicaraguan and Dominican cigars that were handed out to them at the beginning of the morning. The cigar makers themselves were there to ensure authenticity.
Big Smoke Saturday Seminars
Top Legal Cigars of the Year
Tobacco Lands
Brand Builders
Lunch
You must be logged in to post a comment.
Log In If You're Already Registered At Cigar Aficionado Online