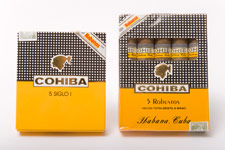 A side-by-side comparison of authentic (left) and counterfeit (right) Cohiba packaging. Five-packs with windows never existed in the Habanos portfolio.
Big Smoke Saturday Seminars: Counterfeit Cigars
Remember that Cuban Cohiba you bought at the beach that time in Cancún? Or that great box of Cohiba Esplendidos your friend brought you back from Bermuda? You know, the one with that cool glass top?
Well, they were fake. All of them. It's not your fault. You had no way of knowing, which is why we decided to dedicate a Big Smoke seminar to counterfeit cigars. It was hosted by Cigar Aficionado's senior editor David Savona and executive editor Gordon Mott.
"If you're American, part of the problem is that you are unfamiliar with the product," said Savona. "You can't just go to your local shop and examine the packaging."
Mott added "Let's see a show of hands. How many people think that they have purchased a fake cigar before?" A few people in the crowd of 500 raised their hands.
And with those words, the seminar began with a slideshow depicting perfect examples of legitimate Cuban packaging, from full boxes to five-packs.
The images were a text book analysis of all the packaging details associated with Habanos products, from the Habanos D.O.P. seals to the new, updated Republica De Cuba export labels.
Once the genuine articles were examined, counterfeits were shown in great detail for side-by-side comparison.
Some counterfeits were quite egregious: packaging that never existed, the wrong vintage dates with the wrong brands, terribly printed bands and labels.
Others were a bit more subtle, requiring the viewer to look closely at embossments, color consistency and luster.
"The profit margin on counterfeiting cigars is huge," said Mott. "You can make a cigar for a few quarters and sell them for $20, $30 even $40 each."
You must be logged in to post a comment.
Log In If You're Already Registered At Cigar Aficionado Online