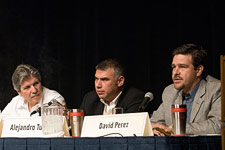 Eduardo Fernandez, owner of Aganorsa in Nicaragua, Alejandro Turrent of A. Turrent Cigars in Mexico, David Perez of ASP Enterprises Inc.
Big Smoke Saturday Seminars: Tobacco Lands
(continued from page 1)
Meerapfel's family has been growing tobacco since 1876. They started in Germany. The Meerapfels have dealt with many tobacco varieties throughout their long history, from Indonesian tobacco to Cuban to Cameroon. They were major players in the world of Cuban tobacco.
Litto Gomez, owner of the La Flor Dominicana brand, does not have such an extensive history.
"I started making cigars in 1994," he said. "By 1997, I needed stronger tobacco from the Dominican Republic and realized that I had to grow it myself. Eduardo [Fernandez] gave me the first seeds for the Dominican tobacco I still grow today."
Gomez grows much of his tobacco on the La Canela farm in the Dominican Republic.
At the foot of the Andes mountains in Ecuador, David Perez grows Ecuadoran Connecticut-seed wrapper, a light tobacco that flourishes under the cloud cover of the region's hazy skies-a widely used alternative to Connecticut shade wrapper grown in the U.S. Perez's family has been growing tobacco since 1890, starting in Cuba.
"In 1960 when Fidel took power, the government offered my grandfather one plot of land," explained Perez. "He said 'You are not giving me land, you're taking it away,' so he left Cuba, taking with him his car and his monkey."
Eventually, Edgar Cullman, former owner of General Cigar, enlisted his father's and grandfather's expertise for growing candela wrapper in Connecticut.
This lead his family to Nicaragua in 1971, until the Sandanistas forced them out.
Now, Perez has 700 hectares (about 1,729 acres) in Ecuador dedicated to Connecticut-seed tobacco from a hybrid.
He also grows tobacco in Nicaragua and Peru, though he maintains a traditional approach to the growing and curing methods. "When technology advances, people tend to lose their jobs. I employ at least 5,000 people in Ecuador."
You must be logged in to post a comment.
Log In If You're Already Registered At Cigar Aficionado Online