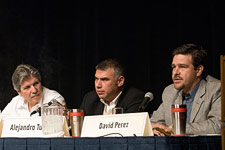 Eduardo Fernandez, owner of Aganorsa in Nicaragua, Alejandro Turrent of A. Turrent Cigars in Mexico, David Perez of ASP Enterprises Inc.
Big Smoke Saturday Seminars: Tobacco Lands
There is often a disconnect between the smoker and his cigar. Like in the food industry, consumers can be oblivious to the farming and cultivation required to bring their neatly packaged products to the market. The challenges are numerous and the second Big Smoke seminar brought some of the world's largest growers on one stage to discuss the history, agriculture and terroir of their tobacco.
Our panelists included Alejandro Turrent of A. Turrent Cigars in Mexico; Eduardo Fernandez, owner of Aganorsa in Nicaragua; Litto Gomez of La Flor Dominicana in the Dominican Republic; David Perez of ASP Enterprises Inc. in Ecuador and Josh Meerapfel, grower of Cameroon tobacco. Most likely, you have smoked tobacco from at least one of their farms.
"Tobacco is the lifeblood of the cigar industry," said Turrent, "but if you don't have great tobacco, you don't have anything."
The Turrent family has been growing tobacco since 1880. Alejandro is fifth generation and grows a tobacco varietal called San Andres Moron.
"You can get filler, binder and wrapper from this tobacco," he assures. "Sweetness is one of its main characteristics, but it also has some strength, a unique taste and excellent combustion."
For this type of tobacco, Turrent employs a method known as stalk cutting, whereby most of the plant is still attached to the stalk when it is culled. "The juices are still in the stalk and when you hang it [to cure], the leaves get the juice, the nutrients and the flavor," said Turrent who also grows Cuban-seed, Sumatra-seed and Connecticut-seed tobacco in Mexico.
But according to Eduardo Fernandez "Nicaragua is the closest thing to Cuba. The flavor, the aroma and the strength is very unique and it blends well with other tobaccos. Nicaraguan Corojo and Criollo are very sought after."
Litto Gomez describing his tobacco experiences while Josh Meerapfel listens.
Fernandez outlined the three major growing areas of Nicaragua: Jalapa, which grows Cuban-seed tobacco spawned from Cuba's famed Pinar del Rio region; Condega for strength and sweetness; and Estelí, which yields a tobacco that burns very white, though is difficult to cure.
If you are a fan of the nutty and subtle spice of quality Cameroon wrapper, you have Josh Meerapfel to thank not only for growing and disseminating it, but for saving the leaf from extinction.
"The French had a monopoly in Cameroon" said Meerapfel. "But by the early 1990s, they no longer wanted it and abandoned the operation. There was a big shortage of the tobacco, so we took over the operation of the French government. The tobacco almost disappeared."
You must be logged in to post a comment.
Log In If You're Already Registered At Cigar Aficionado Online