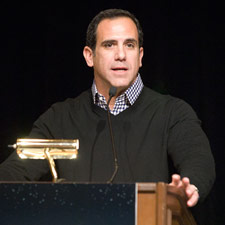 Jorge Padrón talks about the Cigar of the Year, the Padrón Family Reserve No. 45 Maduro.
Big Smoke Saturday Seminars: Top Legal Cigars of the Year
David Savona
Posted: November 17, 2010
(continued from page 2)
Newman took the crowd through the long history of the Diamond Crown brand, which dates back to the early 1900s and the early days of J.C. Newman Cigar Co. The brand had gone dormant for many years, and was brought back as a mild smoke during the cigar boom by Newman's father, the late Stanford Newman.
Bobby Newman speaks about the Diamond Crown Maximus Double Corona No. 1.
As consumers took a liking to increasingly strong cigars, the Newmans looked to create a more powerful version of Diamond Crown, which they accomplished by working with the Fuentes to create Diamond Crown Maximus in 2003.
The bold smokes are rich and sweet with bold notes of espresso beans.
Newman also spoke about charity, particularly his work with Southeastern Guide Dogs, providing guide dogs for soldiers injured in duty. "For free, of course," he said, bringing the entire crowd to their feet for a hearty round of applause.
Three of the finest cigars in the world, smoked in one very special morning. The cigars for the Big Smoke Las Vegas seminars did not disappoint.
Big Smoke Saturday Seminars
Tobacco Lands
Counterfeit Cigars
Brand Builders
Lunch
Big Smoke Weekend Photo Gallery
Coming Friday!
Big Smoke Sunday Seminars
Breakfast with Charlie Palmer
Roll Your Own with Team La Gloria
Single-Malt Scotch and Cigars
You must be logged in to post a comment.
Log In If You're Already Registered At Cigar Aficionado Online