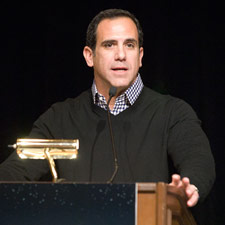 Jorge Padrón talks about the Cigar of the Year, the Padrón Family Reserve No. 45 Maduro.
Big Smoke Saturday Seminars: Top Legal Cigars of the Year
David Savona
Posted: November 17, 2010
The Big Smoke Las Vegas seminars began bright and early on Saturday morning. A crowd of 500 cigar lovers from around the United States and the world streamed into the seminar room at the Venetian Hotel & Casino in Las Vegas, and as each person walked through the doors they were handed a Humidipak bag containing three very special cigars.
They were the top legal cigars of 2009 from Cigar Aficionado's annual Top 25 ranking of cigars, Nos. 1, 3 and 4. The U.S. embargo against Cuba prohibits the inclusion of Cuban cigars (and this year the Cohiba Siglo V Tubo ranked No. 2.)
Gordon Mott, executive editor of Cigar Aficionado magazine and the master of ceremonies for the morning program, welcomed the crowd to the Big Smoke, a cigar in his hand and a smile on his face.
"How many of you are here for the first time?" he asked. More than half the audience raised their hands, prompting Mott to smile in surprise. He thanked everyone for attending, noting that the seminars sold out more than six weeks prior to the show.
Mott then welcomed the first speaker of the day to the stage, Jorge Padrón, the president of Padrón Cigars Inc. in Miami and the maker of the 2009 Cigar of the Year, the Padrón Family Reserve No. 45 Maduro. The audience members lit up their samples of the Nicaraguan smoke, which has a suggested retail price of $25 and was rated 95 points, classic on our 100-point scale.
Padrón said it was a "tremendous honor," to have his cigar named Cigar of the Year, an award the Padrón family has won three times out of six contests. "It's a humbling experience," he said.
Padrón apologized for the absence of his father, who was unable to make the trip to Las Vegas. He then went on to explain the values that his father had imbued in him over the years, lessons that have served him well in making cigars that people enjoy so much.
"I've learned more in the 20 years working next to my dad than I did with my MBA," he said. He spoke of how his father came from humble roots: growing tobacco in Cuba as a younger man, coming to Miami with next to nothing, forming Padrón Cigars with all of $600 in his pocket and selling mixed-fill fumas to the Cubans in Miami. He also spoke about the Nicaraguan tobacco that gives Padróns their distinctive flavor.
"My dad immediately recognized that tobacco from Nicaragua was the second coming of Cuba," said Padrón. The crowd, puffing away on the immensely rich and full-flavored Padrón Family Reserve, agreed.
The No. 3 cigar of the year is also Nicaraguan, and when it came time to light up that cigar after a conversation about lands that grow tobacco, Mott invited José "Pepin" Garcia and his family up to the podium.
This was the first time that Garcia had appeared before the Big Smoke crowd, and he received a warm welcome from the audience. He was joined on stage by his son Jaime and daughter Janny who work alongside him in Nicaragua and Miami. Helping translate Pepin's comments was John Gonzalez, vice president of sales for the company, which is headquartered in Miami.
Garcia apologized for his English, but this reporter, who helped along with questions from the podium, told him it was all right, because the audience understood him quite well through his cigars.
Pepin, Janny and Jaime Garcia talk about the My Father No. 1.
Garcia spoke about learning how to roll cigars at the side of talented cigarmakers in Cuba. Garcia, who became one of Cuba's greatest cigar rollers, is among the few men to own and operate a cigar factory that was originally a cigar roller.
He spoke about his careful craftsmanship, where he instructs his workers to make each cigar in the Cuban way, with a mounted or three-seam cap.
Garcia's cigar production has increased exponentially since his original foray into cigar sales. He originally made cigars in a tiny factory in Little Havana, a place called El Rey de los Habanos, which made a few thousand cigars per day. Now, at his massive My Father Cigars factory in Estelí, Nicaragua, he makes more than 35,000 cigars a day.
His premiere cigar is the one the audience smoked along with him, the My Father No. 1, a robusto that is Cigar Aficionado's No. 3 cigar of 2009, with a rating of 94 points.
My Father is truly a family creation. Jaime created the blend in secret, using the first of the Garcia's very own Nicaraugan filler and binder tobaccos with a gorgeous Colorado wrapper grown from Habana-seed in Ecuador. The $10 cigar, picture perfect like virtually all smokes made under Pepin Garcia's tutelage, is meaty and rich, with notes of coffee bean cigar.
The final cigar of the morning, introduced after the seminar on counterfeit cigars, was the Diamond Crown Maximus Double Corona No. 1, a $17.50 cigar made in the Dominican Republic by the Fuente family for J.C. Newman Cigar Co. Bobby Newman presented the cigar, which was rated 93 points by Cigar Aficionado.
"If you smoke cigars, you are my friend," said Newman, as the crowd clipped the heads of the eight-inch-long cigars, which are wrapped in dark Ecuadoran wrapper grown from Sumatra seed. "There is not another product that binds people like cigars."
Newman took the crowd through the long history of the Diamond Crown brand, which dates back to the early 1900s and the early days of J.C. Newman Cigar Co. The brand had gone dormant for many years, and was brought back as a mild smoke during the cigar boom by Newman's father, the late Stanford Newman.
Bobby Newman speaks about the Diamond Crown Maximus Double Corona No. 1.
As consumers took a liking to increasingly strong cigars, the Newmans looked to create a more powerful version of Diamond Crown, which they accomplished by working with the Fuentes to create Diamond Crown Maximus in 2003.
The bold smokes are rich and sweet with bold notes of espresso beans.
Newman also spoke about charity, particularly his work with Southeastern Guide Dogs, providing guide dogs for soldiers injured in duty. "For free, of course," he said, bringing the entire crowd to their feet for a hearty round of applause.
Three of the finest cigars in the world, smoked in one very special morning. The cigars for the Big Smoke Las Vegas seminars did not disappoint.
Big Smoke Saturday Seminars
Tobacco Lands
Counterfeit Cigars
Brand Builders
Lunch
Big Smoke Weekend Photo Gallery
Coming Friday!
Big Smoke Sunday Seminars
Breakfast with Charlie Palmer
Roll Your Own with Team La Gloria
Single-Malt Scotch and Cigars
Big Smoke Evenings
You must be logged in to post a comment.
Log in if you're already registered.
---
---
Search our database of more than 17,000 cigar tasting notes by score, brand, country, size, price range, year, wrapper and more, plus add your favorites to your Personal Humidor.
---
---