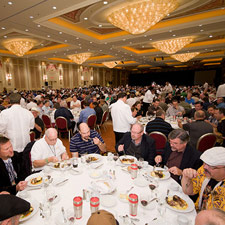 Hundreds of Big Smoke guests were served lunch by General Cigar.
Big Smoke Saturday Seminars: Lunch
(continued from page 1)
During the lunch, it was revealed that more cigars, housed in wooden, lacquered slide-lid boxes, would be handed out at the end. They were: Macanudo Café, Partagas, Cohiba, La Gloria Cubana Serie R, Punch, Hoyo de Monterrey Excalibur, Sancho Panza and Don Tomás
Click here to download a pdf copy of the full lunch menu.
Big Smoke Saturday Seminars
Top Legal Cigars of the Year
Tobacco Lands
Counterfeit Cigars
Brand Builders
Big Smoke Weekend Photo Gallery
Coming Friday!
Big Smoke Sunday Seminars
Breakfast with Charlie Palmer
Roll Your Own with Team La Gloria
Single-Malt Scotch and Cigars
Big Smoke Evenings
Friday & Saturday Parties
You must be logged in to post a comment.
Log In If You're Already Registered At Cigar Aficionado Online