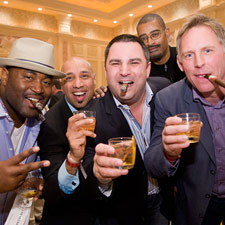 Joe Jackson, Jat Dhaliwal, Todd Crystal and Cameron Evans are all smiles.
Big Smoke Evenings, Las Vegas
Andrew Nagy
Posted: November 16, 2010
(continued from page 1)
There was also a handful of cigar accessories makers there displaying products and taking orders.
Cutters and lighters were put on display by Colibri and Xikar; Liebherr educated attendees on the benefits of cigar refrigeration while Rabbit Air displayed its MinusA2 Air Purifier; Diamond Crown had a table of elegant humidors as did Daniel Marshall, who personally signed one of his humidor designs.
Two gentlemen who traveled from Montreal, Quebec, Eric Gaudreault and Karl Frigan, were particularly excited for the spirits selections, as they were unaware the offerings were going to be of such high quality.
Fritz Feuerherm from Minnesota poses next to two beauties: a Corvette ZR1 and Dani Reeves.
"I got a Zacapa rum right now," said Frigan. When told that Macallan single-malt Scotch also had a booth and they were pouring 12- and 15-year expressions, a smile appeared on his face. "Guess I know where I'm going next."

Scotch whisky Glenmorangie also had a booth, as did Irish whiskey Tullamore Dew and Canadian whiskey Crown Royal; tequila brands Patrón and Milagro served as well; Ron Abuelo and Appleton rums could be sampled; Cognac was provided by A. de Fussigny and Courvoisier; and also available was Bombay Sapphire gin and vodka distillers Crystal Head, Hammer + Sickle and Ultimat. Foster's beer and Sledgehammer Wines provided a lighter alternative.
The Casa Fuente "booth" was decked out with bamboo chairs and wooden tables, essentially doubling as a lounge. A bartender offered samples of Don Q rum to sip on while boothgoers enjoyed the moment of rest.
Four automobiles were on display, including two from Chevrolet, a Neiman Marcus Edition Camaro Convertible that was the color of Bordeaux and a sky blue Corvette ZR1.
Arturo Sandoval puts on a show at the Fuente booth.
Some chose to take a load off at the Team La Gloria Cubana booth, albeit not necessarily a relaxing one. At the booth, Master Roller Leo Peraza, who has rolled cigars for 53 years, could be seen putting attendees through a crash course in how to roll their own cigar.

A particularly memorable moment occurred at the Saturday night party when famed jazz trumpeter Arturo Sandoval played an impromptu jam at the Arturo Fuente booth.
Like the Sirens of Greek mythology, Sandoval's brass playing called out, stopping conversations and encouraging an entranced crowd to form around the four-time Grammy winner.
Comments
6 comment(s)
ANTHONY BLAKE — SANTA PAULA, CA, UNITED STATES, — November 16, 2010 5:43pm ET
---
Dean Berghorst — November 16, 2010 9:08pm ET
---
Joe Comeau — Clayton, NC, 27527, — November 16, 2010 11:31pm ET
---
Andrew Nagy — November 16, 2010 11:34pm ET
---
Steven Sumegi — November 18, 2010 12:52am ET
---
Tom — November 19, 2010 9:48am ET
---
You must be logged in to post a comment.
Log In If You're Already Registered At Cigar Aficionado Online