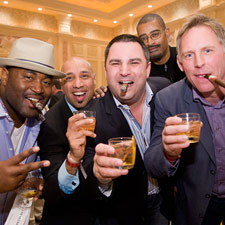 Joe Jackson, Jat Dhaliwal, Todd Crystal and Cameron Evans are all smiles.
Big Smoke Evenings, Las Vegas
Andrew Nagy
Posted: November 16, 2010
They came, they saw, they smoked.
Thousands of cigar enthusiasts came from all parts of the United States and the world to the Venetian Hotel & Casino in Las Vegas to be a part of Cigar Aficionado's 15th annual Big Smoke Las Vegas weekend evening parties, the largest cigar celebrations in the world, held last Friday and Saturday night.
They saw many things, including more than 30 cigarmakers passing out premium cigars to eager attendees, along with a dozen or so spirits makers pouring the finest drinks and eight of Sin City's best restaurants serving food.
"We came to play golf and smoke cigars," said Phil Gruidl, a patrolman from Sacramento, California, nearing retirement. "Oh, and the pretty women," he added with a wink.
‪‬
Steve Giovanniello and Karen Temple share a lighter.
‬‪Gruidl was with his friend Steve Harris on their sixth trip to the Big Smoke in Las Vegas. Another friend, Brian Curry, was accompanying them and it was his first taste of a Big Smoke evening party.

"Yeah, they dragged me out here with them," he joked with a deadpan face.
All night the crowd was buzzing as people walked from cigarmaker to cigarmaker to fill up their official Cigar Aficionado tote bag with delicious premium smokes. The line at the Alec Bradley booth was particularly long as Alan Rubin was not only passing out his Prensado and Vice Press, but also raffling off a year's worth of premium cigars to one lucky winner.
Competing for longest line of the night were also Rocky Patel, who was offering attendees a choice of his cigars, including his 1961 blend, and the Padrón booth, manned by Jorge Padron himself.
Rounding out the list of cigarmakers passing out their premium smokes were: Carlos "Carlito" Fuente Jr., giving out his Sun Grown line; Carlos Toraño passed out samples of his 1959 Exodus 50 years; Ernesto Perez-Carrillo, passing out his Core Line; Pepin, Jaime and Janny Garcia of My Father Cigars had La Reloba cigars to hand out; Litto Gomez of La Flor Dominicana, handing out his Ligero; Robert Levin of Ashton passed out La Aroma De Cuba; Alejandro Turrent gave out A. Turrent Triple Play; Manuel Quesada was passing out both a Quesada Tributo and Casa Magna.
Other cigars to be had included: Avo, Camacho Room 101, Casa Fernandez, La Gloria Cubana, Hoyo de Monterrey Reposado en Cedros and Macanudo Crü Royale, C.A.O. La Traviata Maduro, Cuba Aliados, Cusano, Diamond Crown, Hammer + Sickle, La Reloba, NUb, Oliva Serie G, Panter, Puros Indios, Villiger 1888, H. Upmann Sun Grown and Warlock.
Comments
6 comment(s)
ANTHONY BLAKE — SANTA PAULA, CA, UNITED STATES, — November 16, 2010 5:43pm ET
---
Dean Berghorst — November 16, 2010 9:08pm ET
---
Joe Comeau — Clayton, NC, 27527, — November 16, 2010 11:31pm ET
---
Andrew Nagy — November 16, 2010 11:34pm ET
---
Steven Sumegi — November 18, 2010 12:52am ET
---
Tom — November 19, 2010 9:48am ET
---
You must be logged in to post a comment.
Log In If You're Already Registered At Cigar Aficionado Online