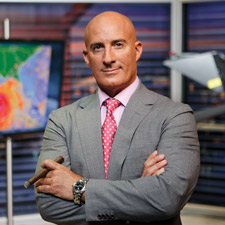 Photo/Christopher T. Martin
In the Eye of the Storm
As the Weather Channel's chief hurricane tracker, Jim Cantore is usually at the center of the action—just the way he likes it.
(continued from page 2)
"I like to be in control of everything," says Cantore, "but I found out I can't control everything." It's been a humbling lesson, and a tough one. "People ask me if I'm ever afraid out there [on assignment] and I say no, the only storm that scares me is the Fragile X storm," he confides. "Both the kids go to school. Christy is doing well. Ben will need to be supervised all of his life. That's the storm that never ends."
Cantore, who is involved in charitable work on behalf of both Parkinson's and Fragile X research, says his relationship with his ex-wife and kids is good: "I have to be there for them, help out however I can." Then he takes a long pause. "You know, if I could trade everything I've done..." It's not a sentence he needs to finish.
His busy work schedule has been a blessing, giving Cantore something else on which to concentrate. In addition to his five-night-a-week show and his remote broadcasts, he hosts two series-"Storm Stories," which premiered in 2003 and revisits intense weather events, and "Cantore Stories," which began airing in early 2010. The latter is a favorite project of his, taking him to extreme weather destinations—like Barrow, Alaska, or Key West, Florida—when there isn't some catastrophe looming. "To show up on the Gulf Coast when it's really nice out and talk to the people who live there is great," says Cantore. "It gives people a chance to see a little lighter side of him," agrees executive producer Sappington. "It's not that, 'Oh no, what are you doing here' reaction he normally gets." (The Dr. Doom thing again; signs playfully imploring Cantore to get lost-and take his hurricane with him-are ubiquitous whenever a major storm threatens.)
As the face of the Weather Channel, Cantore can be seen in as many as 100 million homes, and has gained even greater exposure from NBC Universal's purchase of the Weather Channel in 2008. He's done weather reporting from the National Hockey League's annual outdoor Winter Classic game, worked as a correspondent during the 2010 Winter Olympics in Vancouver (where he discovered that, yes, Al Michaels is also a fan) and has even pinch-hit on occasion for "Today Show" weatherman Al Roker.
If it sounds like Cantore might be on the verge of going Hollywood, or at the very least standing in Rockefeller Plaza asking Justin Bieber what it is about him that makes all the girls scream, think again. "I'm the last of a dying breed," he says. "I just like doing the weather, bro."
What Cantore will do the rest of hurricane season depends on where the blips on the screen take him, but if the steering currents cut him some slack, chances are he'll point his steel gray Toyota Tacoma in the direction of the cabin he owns in the north Georgia woods. Probably take his kids. Definitely pack some cigars.
Cantore is partial to Arturo Fuente, Romeo y Julieta and Padrón's 1964 Anniversary Series ("Probably my favorite cigars right now"), but, as with his job, he doesn't mind leaving his comfort zone. Recently, a neighbor gave Cantore some candelas. "They didn't have labels on them," says the storm tracker, describing the green-leaf smokes, "but I know they were from Cuba. They were pretty good."
Since he never lights up on assignment—it's difficult to enjoy a cigar when you're standing on a beach, getting a sandblast facial courtesy of Mother Nature—the cabin has become his smoking retreat. It's also the place where he indulges his inner grill master. "Steak, chicken, fish—it doesn't matter. I'm a carnivore."
Cantore's two favorite ways to relax complement each other perfectly. "After a nice dinner," he muses, "a cigar is the grand finale to the evening." His standard ritual, enacted amid the Japanese maples he's planted at his weekend getaway, recalls that first smoke with his Dad. "I'll just grab some Macallan and a cigar," he says. "At that moment, I know the world is in harmony."
Gaspar González is a Miami-based writer and filmmaker.
You must be logged in to post a comment.
Log In If You're Already Registered At Cigar Aficionado Online