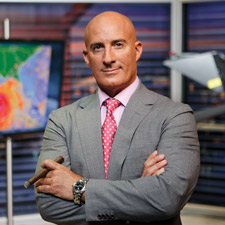 Photo/Christopher T. Martin
In the Eye of the Storm
As the Weather Channel's chief hurricane tracker, Jim Cantore is usually at the center of the action—just the way he likes it.
(continued from page 1)
"He's the face of hurricanes," says Weather Channel producer Howard Sappington. "And hurricane season draws our biggest audience." That combination-the Atlantic pitching tightly packed haymakers at the U.S. coastline and Cantore standing out on the beach, telling the rest of us to take cover-has earned Cantore fans all over the country. Though it did take him a while to realize a meteorologist could have that effect on people. It first hit him in 1998, when he was standing on a beach in North Carolina, head down, taking notes, waiting to go on the air. "Just then," recalls Cantore, "my producer says to me, 'We're going to have to move some of these people.' I have no idea what he's talking about, so I turn around and there are 400 people standing behind me. I felt like a rock star."
Cantore's appeal isn't lost on his coworkers. "He's got a passion for the weather and people identify with him," says Michelle Birnbaum, a producer at the channel. "Men want to be his friend, women think he's hot and kids kind of look up to him. I've seen a family wait four hours in a storm for an autograph."
Sappington has a name for the kind of adulation Cantore inspires. "I call it the X-factor," says the producer, making the symbol by crossing his arms in front of his face. "When you're with Cantore, you never know what to expect." An example? "We were covering Hurricane Dennis in Pensacola [in 2005] and we kept going into this Greek restaurant for lunch. After the storm, there was no power, but this Greek guy had a gas stove, so he invited us back and cooked filet mignon and lobster for 15 of our crew. We had a feast. That's the X-factor."
Everybody at the Weather Channel, it seems, has an X-factor story. Meteorologist Chris Warren: "We had just covered a storm in North Carolina and were driving back to the airport when we stopped at a Taco Bell. As we're leaving, the manager runs in the back and brings Cantore this cake and says, 'Here, this is for you.' Where did he get a cake? They don't serve cake!" Producer Jim Gagne: " We're walking out of a restaurant in Barrow, Alaska—which is the northernmost city in the United States—and a guy yells, 'Hey, Jim Cantore!' How does that happen? I don't even think they have TV there."
Cantore is quick to deflect much of the attention he receives. He shrugs off his hurricane-superman persona—"I've never been out in a 100-mile-an-hour wind; a satellite truck can't broadcast under those conditions"— and insists that, for all the focus on him, his job description remains pretty simple: get people out of harm's way.
It's a principle Cantore takes seriously. When Hurricane Katrina was rolling toward the Gulf Coast in 2005, Cantore was sent to Gulfport, Mississippi, to ride out the storm and report on it. He looked for the highest elevation he could find. He was told the Armed Forces Retirement Home was 27 feet above sea level. That estimate proved to be about seven feet too optimistic. "All of a sudden, there's three feet of water—and climbing—in the parking lot," says Cantore. "Cars are starting to look like bobbers. I thought a drain had backed up, but it was the storm surge. I couldn't believe it." The worst realization was yet to come. The surge was going to overtake the bottom floor of the retirement home. "All of a sudden, it wasn't about TV anymore," he says. "It was about getting people and beds upstairs. Ever pick up one of those wheelchairs with the battery pack and carry it up a flight of stairs? Dude..."
That was a rough season for Cantore, and not just because of the unprecedented havoc caused by Katrina. While he was on the road, his home life was falling apart. He'd been married since 1990 to Tamra, a petite blonde he'd met at the Weather Channel. They had two kids; Christina, born in 1993, and Ben, in 1995. They were, in many ways, a model family. The father, handsome and strong; mom, loving and caring. One day in 1997, Tamra complained that she couldn't keep her arms from shaking. She went to the doctor, and got hit with a Cat 5 diagnosis. She was suffering from early onset Parkinson's, the same disease that afflicts the actor Michael J. Fox. "Can you imagine a snippet of your life taken away every day, [like] losing the ability to tie your shoes?" Cantore asks.
Around the same time, the couple had noticed that 18-month-old Ben wasn't developing as quickly as other children his age. He wasn't walking yet, and could barely form words. Like most parents, they told themselves it didn't necessarily mean anything, but better to get it checked out. The verdict on Ben came back equally distressing. The child had Fragile X Syndrome, a form of inherited mental impairment caused by a defect in the FMR1 gene on the X chromosome.
More tests confirmed that Ben's sister Christina also had the condition. It hadn't been detected in her previously because, with girls, who essentially have a spare X, the disease tends to manifest itself in more subtle ways: attention deficit disorder, shyness, inability to make eye contact. In boys, it usually takes a more severe form resembling autism.
Cantore became the family's primary caregiver. When he was in town, he drove the kids to doctors' appointments, did laundry, ran errands. When he wasn't home, he suffered silently. "I kept it private for many years," says Cantore, "but it was good to come out with it. It was good for me, good for them." He gave the story to a newspaper reporter in St. Petersburg, Florida, in 2004. But talking about it couldn't save the marriage. The strain just got to be too much.
You must be logged in to post a comment.
Log In If You're Already Registered At Cigar Aficionado Online