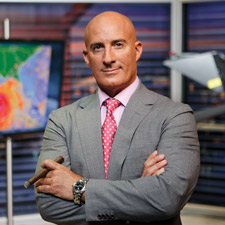 Photo/Christopher T. Martin
In the Eye of the Storm
As the Weather Channel's chief hurricane tracker, Jim Cantore is usually at the center of the action—just the way he likes it.
It's not the way you normally picture Dr. Doom. Dressed in a shirt and tie, sitting at a desk, staring into a computer monitor. The face is familiar, as is the shaved head and the chiseled profile that wouldn't look out of place on an ancient Roman coin. But there's something missing: the rain jacket and cap combo that makes him a dead ringer for Bruce Willis in Unbreakable, not to mention the wind gusts, pelting rain and the sight of the ocean rearing up behind him, getting ready to gallop onto shore. That's how most people are used to seeing Jim Cantore, the Weather Channel's most recognizable on-air personality. For almost 20 years, he's been at the scene of almost every major hurricane to hit the United States. Andrew. Ivan. Katrina. Hence the Dr. Doom tag.
But it's August and the tropics are only now beginning to heat up, so Cantore is in the studio, preparing his computer graphics for the nightly show he co-anchors with Alexandra Steele. To a casual observer, the screen looks like what you'd normally see on your nightly network weathercast, but to Cantore it contains all the action and drama of a great, never-ending novel. Told that Hurricane Danielle, still somewhere over the middle of the Atlantic, has been downgraded to a tropical storm, Cantore's head jerks up. "A tropical storm? How can that be? It was over a hundred miles [per hour] yesterday!" Then his gaze shifts back to the screen. He studies it some more. He's convinced Danielle will re-intensify and track to the north-northwest. "It looks like I might be in Bermuda in a few days," he says. (The storm eventually passed east of the island as a Category 2 hurricane, but because it never threatened land, Cantore didn't cover it.)
In an age of TV personalities playacting at being serious journalists, Cantore comes off as the real thing, intensely passionate about what he does, committed to knowing the science of weather, with surprisingly little patience for the entertainment side of the business. "It's the weather, bro," he says, using one of his favorite forms of address. "Global warming, blizzards, hurricanes. You don't have to hype it."
Cantore was raised in White River Junction, Vermont, and learned at a young age that Mark Twain was right. If you don't like the weather in New England, all you have to do is wait a few minutes. Fall foliage, snowstorms, northeasters: Cantore's love of the outdoors-and sports-kept him in the middle of it all. "I played baseball, football and hockey," says the 46-year-old, who still has the compact, muscled build of a fullback.
He got the only career advice he'd ever need from his father. "Senior year of high school, I'm sitting at the kitchen table, and my Dad says, 'What are you going to do with your life?' " remembers Cantore, who didn't really have an answer for his old man. "So he says, 'Why don't you study weather?' You're a freak for snow, waiting for the first snowfall of the season, running out to shovel the walk for your Mom.' " Cantore smiles. "That's one of those great moments with your Dad."
Cantore, the oldest of four adopted children, went to Lyndon State College, only 70 miles away, because it was "close to Mom's home cooking." After graduating in 1986, he headed to Atlanta and his first job with a four-year-old start-up cable channel that was trying to do for weather what Ted Turner and CNN had done for news: turn it into a 24-hour television event. "I call the Weather Channel 'The Little Engine That Could,' " says Cantore, recalling the bare-bones programming of those early days. "I used to show maps and talk for 25 minutes out of every hour, four hours a night. That's 100 minutes of talking in front of a map every day." After a few years of that, Cantore was ready to "go out and play."
The only problem was that he was still learning his job. "When I got to the Weather Channel, I didn't know shit about the tropics," he confesses. But he applied himself. "I think it comes from being a competitive athlete as a kid," says Cantore. "I just want to get better all the time and, with weather, that might help save a life." So he watched and listened and learned.
By the time Hurricane Andrew was churning over the Atlantic in 1992, the young meteorologist felt confident enough in his forecasting skills to predict the storm's future track. When he got off the air, a colleague called him over and told him he had Bob Sheets, at the time the director of the National Hurricane Center, on the phone. "I was, like, 'Get out of here,'" says Cantore. "But when I get on the phone, it really was him. He says, 'Did you just extend the forecast out 72 hours and say that Andrew was going to make landfall somewhere between Miami and the Carolinas?' " Cantore told him he had. 'Don't ever do that again,' " he recalls Sheets yelling at him. " 'I've had every emergency manager from the Carolinas down calling me!' " Noting that he's telling that story on the 18th anniversary of Andrew devastating much of South Miami-Dade County-it was one of the most powerful storms ever to make landfall in the U.S.- Cantore concludes, "I knew that day that people were listening, and that my tropical updates didn't suck."
And he would soon get his wish to go out and play. After hitting South Florida as a monster Category 5 hurricane, Andrew, still a powerful Cat 3, made a right-hand turn in the Gulf of Mexico and shot up toward the Louisiana coast. Cantore and a crew were sent to cover the second landfall. "It was 3 a.m. and the storm blew my AC unit into my room-and we were on the 15th floor," Cantore remembers. "I woke up my producer and said, 'We're going live!'"
That broadcast proved to be Cantore's first as an on-the-spot storm tracker. It also coincided with his first smoke. No surprise to hear it was the old postmaster who introduced him to cigars and, for that matter, the pleasures of Scotch. "My Dad is a Scotch drinker and one night he offered me some," says Cantore. "He knows I'm not a big fan, so he says, 'Here, it'll taste better with a cigar.' And it did. I think it was a Macanudo; that was my first one." He was 28, and his career was just beginning to pick up speed.
You must be logged in to post a comment.
Log In If You're Already Registered At Cigar Aficionado Online