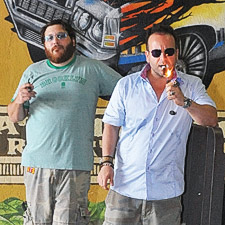 Jonathan Drew, left, and Marvin Samel, cofounders of Drew Estate Cigar Company.
Being Drew Estate
Jonathan Drew, Marvin Samel and Drew Estate make cigars their own way
(continued from page 2)
"I've never seen him in a suit," says Padrón. "But what I have seen is a tireless fighter. There are some in the cigar industry who dedicate themselves to copying somebody else's work. I admire Jonathan because he dedicates himself to developing original ideas."
One of the ideas Drew worked on would become a cigar known as Acid, named for the artist Scott "Acid" Chester. (That's his spiky hair in the Acid silhouette.) You won't find this extremely nontraditional cigar rated in the pages of Cigar Aficionado. This magazine would classify the cigar as flavored (a category we decline to rate), but Drew prefers the term "infused." "We don't use the 'F' word," he says. "We've never once met with a professional flavoring company." Acids borrow taste from oils, botanicals, herbs and even red wine. The shapes are also unconventional—fat figurados with extra long pigtails that could double as a fuses on old bombs. The names are just as unusual: Atom Maduro. Cold Infusion. Extra Ordinary Larry.
Call Acids strange, but they sell. Discounting the brands that are made specifically for his stores, Acids are the biggest seller (by single stick sales) for Borysiewicz's Corona Cigar Co., which sells an awful lot of cigars. "You'd be surprised who buys them," says Borysiewicz. "From the younger generation to middle-aged guys. Most of them buy it as a change-of-pace cigar. It's also a really good beginner cigar."
"You have a lot of Acid smokers out there," says Drew. He believes it could be perhaps the fourth-largest handmade cigar brand sold in the United States. It's certainly Drew Estate's biggest and best-known cigar, accounting for some 40 percent of the company's annual sales, which Drew says are about $30 million a year. Whether the cigar really is a top-five brand in the U.S. cigar market is debatable, but one thing is certain—Drew Estate makes an awful lot of them, cigar retailers sell a ton of them, and cigar smokers know and buy Acid cigars in very large quantities.
Drew Estate may be open about a lot of subjects, but the Acid cigar line is not one of them. The company protects its infusion process, and says very little about it. Samel claims only four people in the world know the entire process. Drew is mum about the details of how his Acids and other infused smokes get their flavors, but he does claim to use top-quality ingredients, beginning with good tobacco. "When you think of flavored cigars you think of short-fill, quick-flavored cigars," Drew says. "It takes a long time to do things right." (The fact that Acids are different from the typical grape- or cherry-flavored cigar makes Drew Estate feel they wouldn't be subject to any type of ban that might befall flavored smokes.)
While Drew doesn't show the infusion process to visitors, he does give some hints about the finishing stage, which is key to the process. Every Acid and other infused smoke goes into plastic wrap in a cool room, where they sit after rolling to let every essence get locked in. Drew and company says it's a critical step in the process. It's also very time consuming. "All of our infused cigars, from the time we make it to the time we sell it in stores, is three to eight months," says Drew.
Drew says his cool rooms can hold up to 20 million handmade smokes. He looks through his tinted glasses, mouth straight, proud of his process. "We don't age cigars on the back of a UPS truck."
A Nod to Tradition
Drew Estate has expanded from its core model of Acid smokes. It started in 2006 with the mild Chateau Real, then in 2008 it created Liga Privada No. 9, a premium cigar with a medium to full body made with a dark Connecticut broadleaf wrapper. Liga has been the attention grabber. Most have scored well with Cigar Aficionado, rating 88 or 89 points. Drew Estate doesn't make very many of them, but by dollar volume Liga might soon be the company's second-biggest moneymaker behind Acid. "Liga is going to be our second-biggest brand in the stable," says Drew, adding that the cigar is closing in on 15 percent of his sales. The company recently added a few intriguing sizes, the Dirty Rat and the Flying Pig, and expanded the line with a version called T52 with a Connecticut Habano wrapper. "People are clamoring for them," says Samel. "It allows traditional cigar smokers who may not have known Drew Estate to see us in a different light." Drew calls Ligas the "heavy leaf" segment of the company, and it's where he sees his future.
For a time, that future looked in jeopardy. In September 2008, Drew Estate ran into money problems. Caught with too many cigars, too many projects, and with the world financial crisis in full bloom, the company's lenders began cutting Drew Estate's credit. "We were overproduced to the tune of two or three million units," says Drew. The bank reigned in more than $1 million worth of the company's credit, forcing Drew Estate to lay off more than 100 workers. "That was the blackest moment, other than the early days," says Drew. "We've gone through a tremendous amount of struggles," says Samel. Rumors began to swirl that the company was going on the auction block. "We worked through that with help from some of our dearest suppliers," says Drew. "Friends who lent us some money." He says the financial scare taught him to be more disciplined with his business moves, with better communication between accounting, production and marketing.
Comments
10 comment(s)
Robert Martin — Flushing, New York, Queens, — September 30, 2011 6:41pm ET
---
Lloyd Mira-Fuentes — December 28, 2011 8:27am ET
---
Raymond Alva — Riverside, CA, USA, — January 4, 2012 4:36am ET
---
jwterry1962@yahoo.com — February 25, 2012 2:24am ET
---
jwterry1962@yahoo.com — February 25, 2012 2:25am ET
---
JONATHAN DREW — NEW YORK, NY, UNITED STATES, — May 9, 2012 8:23pm ET
---
Habiger75 — June 5, 2012 12:39am ET
---
john a. wright jr. — gloucester, ma, us, — July 22, 2012 12:22pm ET
---
James Poland Jr — Branchland , West Virginia, United States, — September 22, 2012 8:11pm ET
---
Erik Molnar — Yakima, WA, USA, — December 29, 2013 3:13pm ET
---
You must be logged in to post a comment.
Log In If You're Already Registered At Cigar Aficionado Online