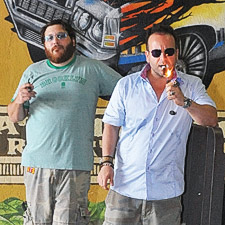 Jonathan Drew, left, and Marvin Samel, cofounders of Drew Estate Cigar Company.
Being Drew Estate
Jonathan Drew, Marvin Samel and Drew Estate make cigars their own way
(continued from page 1)
Looking Ahead
Drew Estate has its eyes on other businesses outside of cigars. This summer it put its Acid brand on a line of tobacco used to fill hookahs, which is known as shisha (or sheesha). At press time it started shipping Acid Shisha by Starbuzz, a brand made by the priciest producer of shisha tobacco on the market. Once smoked strictly in the Middle East, hookahs are hot among the younger aficionado crowd. "It used to be 100 percent ethnic," says Drew, "now the market has changed—it's 10 percent ethnic."
Drew Estate was built on big dreams, and the cigar guys behind it have plans to be even larger. At full capacity, the factory could produce almost twice what it's doing now, some 130,000 cigars a day. And the company is considering expanding across the street, with another 30,000 feet of space for tobacco processing.
"I had a brand that was a blockbuster, but it wasn't built for the purist. It was built for a nontraditional smoker," says Drew. "While it is true that the company has grown into a 'real' business, the romance and intrigue of tobacco continues to be the dominating factor that pushes Drew Estate forward. The Liga Privada brand was the first substantial step toward fully utilizing our experience in tobacco and capabilities at the Gran Fabrica. I think that it is safe to say that this is the direction we will be heading in as we continue into 2011 and beyond."
The guys who make cigars their own way have no plans to change.
Comments
11 comment(s)
Robert Martin — Flushing, New York, Queens, — September 30, 2011 6:41pm ET
---
Lloyd Mira-Fuentes — December 28, 2011 8:27am ET
---
Raymond Alva — Riverside, CA, USA, — January 4, 2012 4:36am ET
---
jwterry1962@yahoo.com — February 25, 2012 2:24am ET
---
jwterry1962@yahoo.com — February 25, 2012 2:25am ET
---
JONATHAN DREW — NEW YORK, NY, UNITED STATES, — May 9, 2012 8:23pm ET
---
Habiger75 — June 5, 2012 12:39am ET
---
john a. wright jr. — gloucester, ma, us, — July 22, 2012 12:22pm ET
---
James Poland Jr — Branchland , West Virginia, United States, — September 22, 2012 8:11pm ET
---
Erik Molnar — Yakima, WA, USA, — December 29, 2013 3:13pm ET
---
Frank Elliott — Duluth, Georgia, USA, — June 8, 2014 8:24pm ET
---
You must be logged in to post a comment.
Log In If You're Already Registered At Cigar Aficionado Online