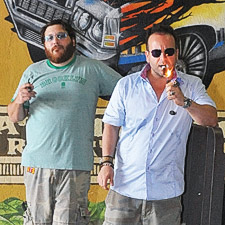 Jonathan Drew, left, and Marvin Samel, cofounders of Drew Estate Cigar Company.
Being Drew Estate
Jonathan Drew, Marvin Samel and Drew Estate make cigars their own way
(continued from page 1)
Drew Estate, the cigars it makes and the men who founded it are the most unlikely of cigar-industry survivor stories, one that began in downtown Manhattan.
The Twin Towers
Nine out of 10 cigar companies trace their roots to Cuban émigrés in Miami, the Dominican Republic, Nicaragua or Honduras, but Drew Estate's story begins in New York City. In 1995, New Yorkers Drew and Samel, former fraternity brothers, went into business together, opening a cigar kiosk at the World Trade Center Mall in downtown Manhattan with all of 16 square feet. "It was the size of your desk," says Samel, firing up a Liga Privada. Drew and Samel created a cigar brand called La Vieja Habana, which they had rolled at La Rosa Cigars, the old-time chinchalle located on Sixth Avenue in Manhattan. They began small. "Our first order was 20 boxes, 30 boxes," says Samel.
The kiosk wasn't much, but Drew and Samel showed signs of style and flash early on—the company phone line in the cart was an attractive antique, something from Drew's mother, an antiques dealer. They did fine selling to consumers, but when they began selling to other cigar shops they didn't take all their expenses into account—every sale they made at the wholesale level was putting them in the red. "When we added up all of our costs, we were actually losing money by selling wholesale to other shops," says Samel.
Drew and Samel soon outgrew the tiny production capacity of La Rosa and met up with Nick Perdomo, owner of Tabacalera Perdomo. They reformulated La Vieja and Perdomo started making the cigars. For their first tradeshow, Drew and Samel drove their wares from New York to Orlando. Consumers responded, and the cigar also caught the eye of critics, scoring 89 points in a May 1998 copy of Cigar Insider newsletter, published by Cigar Aficionado. The 1998 tradeshow was a home run for Drew Estate. "We really hit it out of the park," says Samel. But months after the tradeshow, Hurricane Mitch struck Central America, dumping torrential rain on the region and killing some 19,000 in Nicaragua and Honduras. The storm washed away roads and tobacco fields, and disrupted La Vieja production. "We didn't see a box of cigars for eight months."
The year that began well turned tough. Drew and Samel had received start-up capital from their parents, but they had blown through all the cash. Living on Ramen noodles, running on fumes, without cigars to sell and with no reserve of cash to lean on, their financial adviser looked at their books right before Thanksgiving and made a grim assessment. "He looks us square in the eyes and says, 'Boys, it's over,' " says Samel.
The two partners took their last $20 bill, went to Heartland Brewery in Union Square and poured a few suds on their troubles as they planned the future. They needed their own source of cigars, but they didn't have the money to get going, and were completely out of traditional options. "I borrowed money from people I really didn't want to borrow from," says Samel.
The partners decided salvation meant controlling their own destiny. They had to make something different.
Acid is Born
Drew moved to Nicaragua in late 1998 with the borrowed money to start production while Samel stayed in New York to run the U.S. side of the business. That move laid the foundation for the respect he now gets from the Nicaraguan cigar cognoscenti. "At first, the tobacco growers didn't trust me because the boom had just ended and they saw me as just another gringo out to make a quick buck," Drew told Cigar Aficionado in 2005. "When they saw that I was living inside the factory and I was relentlessly working hard every day, I began to earn their respect."
Comments
10 comment(s)
Robert Martin — Flushing, New York, Queens, — September 30, 2011 6:41pm ET
---
Lloyd Mira-Fuentes — December 28, 2011 8:27am ET
---
Raymond Alva — Riverside, CA, USA, — January 4, 2012 4:36am ET
---
jwterry1962@yahoo.com — February 25, 2012 2:24am ET
---
jwterry1962@yahoo.com — February 25, 2012 2:25am ET
---
JONATHAN DREW — NEW YORK, NY, UNITED STATES, — May 9, 2012 8:23pm ET
---
Habiger75 — June 5, 2012 12:39am ET
---
john a. wright jr. — gloucester, ma, us, — July 22, 2012 12:22pm ET
---
James Poland Jr — Branchland , West Virginia, United States, — September 22, 2012 8:11pm ET
---
Erik Molnar — Yakima, WA, USA, — December 29, 2013 3:13pm ET
---
You must be logged in to post a comment.
Log In If You're Already Registered At Cigar Aficionado Online