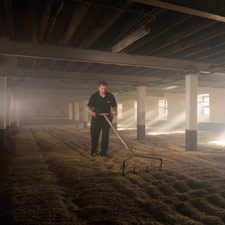 A worker at Laphroaig on Islay lays out floor maltings.
Adventures in Scotch Land
In the wide world of Scotch whisky, the rules of terroir don't always apply
(continued from page 5)
The Glenrothes and The Glenlivet have vintage programs that stretch back four and five decades, with malts that were distilled in specific years. With wine a vintage generally shows off the quality of a grape crop that's been grown in a specific year. Whisky's grain doesn't change much from year to year, and vintage is more about the subsequent years spent in casks. (Bottle time does not contribute to age.) A vintage Scotch would be a sort of record of casks that had shared the same climatic conditions over their maturation. (When you buy a bottle identified by age—say 12 years old—it doesn't mean that all the whisky is from the same vintage, just that it is a minimum of that age. Casks of 13 years or more may have been, and probably were, used to make the vat it is bottled from.)
And yet, it is likewise too convenient to lay Scotch whiskies taste to aging or stills or barley or water, all the things you can easily tabulate. With Scotland, there are always mysteries. Back in Cardhu, a distiller who has just reintroduced its whisky to the American market after years of not having enough product to meet a surging demand, Tait says of the problem: "We can't make anymore here and we can't do it somewhere else. If we could we would. Marketers are eternal optimists and if we were to produce to what they want we would have lakes of whisky."
Comments
2 comment(s)
Marv Eleazer — Valdosta, GA, USA, — January 26, 2011 9:32am ET
---
stantine972 — February 4, 2011 11:27pm ET
---
You must be logged in to post a comment.
Log In If You're Already Registered At Cigar Aficionado Online