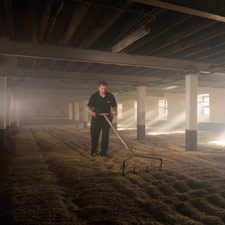 A worker at Laphroaig on Islay lays out floor maltings.
Adventures in Scotch Land
In the wide world of Scotch whisky, the rules of terroir don't always apply
(continued from page 4)
Second, the vast majority of single malt is destined to become part of a blend. The management of the several million required casks is sometimes better done at a series of warehouses. Some are designed to handle whisky for blends, others are traditional single malt facilities.
Aging undoubtedly has the most influence on a whisky, but as well as the "where at," it is the "what in" and the "how long" that makes the difference. Nowadays Scotch whiskies are distinguishing themselves foremost through the quality and of types of wooden casks used for maturation. That process begins outside of Scotland, usually in the United States.
Because by law Bourbon makers can use their new oak barrels only once, Kentucky and Tennessee are steady sources of relatively inexpensive casks as they sell off used stock. Disassembled barrels are shipped to Scotland, where they are reassembled and used again, sometimes over and over. The first-fill casks confer the most flavor on Scotch. At certain point the casks are spent and either discarded or used for neutral storage, as in marrying whiskies in a blends. Some Scotch makers, such as Balvenie, employ their own coopers to work on the wood. Much is done at places like Carsebridge Cooperage, where barrels are piled in small hills destined to be shipped to Scotch warehouses.
Inside there is a faint smell of Bourbon from all of the wrapped staves.
Reconstruction not only means assembly of barrels, but sometimes cutting staves to create casks of different sizes to fit the needs of the distillers they are destined for. The cooperage also rejuvenates barrels that have already been used in Scotch making, scraping the insides to get to fresh layers of wood and then charring them so the whisky can more easily take the flavor from the wood.
Some 80 percent of Scotch whisky is matured in American wood. Sherry and Port vessels make up most of the rest, and Scotch makers have long-mixed whisky aged in different wood types. The Glenlivet has brought together whiskies aged in American oak as well as French Limousin oak. Even the Macallan, which once exclusively used Sherry wood, now has a program to admix whisky aged in American-oak.
Novel ways to store whisky are appearing all the time. A development of recent decades is called finishing, in which a Bourbon-aged whiskey spends several months in another cask. This is a particular specialty of Glenmorangie, which has finished whiskies in various Sherry and Port casks, even Sauternes vessels. Recently, Balvenie, a distillery known for lightly peated malts, released a whisky that enjoys a finish in barrels once used to age heavily peated whiskey. Compass Box, a whisky negotiant, has a blended malt that it finishes in barrels made of both American and French oak.
Because aging has a preponderant effect, makers like Macallan concentrate on wood management to assure their spirits will rest well during their years in oak.
Macallan is perhaps the leader in wood management, having begun to order casks made to their specifications from European, and now American, oak that is then seasoned with Sherry in Spain. For the brand, which had once been very much aimed toward the blend market, it has meant concentrating more and more on its single-malt presence. And it's been rewarding, as it continues to gain accolades.
Super age is another important direction as exemplified by the record prices that malts of 35 years and older, especially The Macallan, The Dalmore, Glenfiddich and Bowmore, continue to garner in the auction market. Two years ago, New York State allowed the first auctions of spirits since Prohibition and that avenue for purchasing whisky has burgeoned ever since. Great age is not limited to special releases, however, and brands like The Dalmore, Glenfiddich and Macallan have 50- and 60-year-old malts in their permanent offerings. Even blends like Famous Grouse 30-Year-Old and Royal Salute 38-year-old Stone of Destiny are expanding the age envelope.
Comments
2 comment(s)
Marv Eleazer — Valdosta, GA, USA, — January 26, 2011 9:32am ET
---
stantine972 — February 4, 2011 11:27pm ET
---
You must be logged in to post a comment.
Log In If You're Already Registered At Cigar Aficionado Online