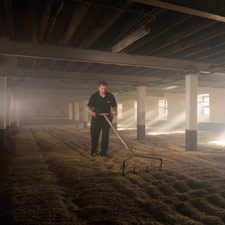 A worker at Laphroaig on Islay lays out floor maltings.
Adventures in Scotch Land
In the wide world of Scotch whisky, the rules of terroir don't always apply
(continued from page 2)
THE FOURTH INGREDIENT
"It's just like butter, guys." Laphroaig distillery manager John Campbell is demonstrating how to harvest a fourth ingredient in most Scotch whisky, one that isn't covered in the aforementioned water-barley-yeast formula.
He sticks a peat spade, a narrow tool with a flat end and a wing protruding from it on the perpendicular, and cuts into the soft soil to extract an almost perfect brick of peat, the partly decayed vegetable matter found beneath much of Scottish land. Piled in the stacks that are not uncommon sights in Scotland, these peat bricks dry out enough to burn, but are moist enough to provide the smoky taste that is—in varying degrees—the signature flavor note of the nation's spirit.
By sheer volume, peat is almost not worth mentioning—it is measured in the parts per million phenol. Far less than a drop exists in a bottle of even the peatiest of whiskies. But it is this minute ingredient that makes Scotch whisky instantly recognizable. Yet the peat smoke that laces most single malts wasn't originally meant solely for taste. When water is added to barley, it begins to germinate, releasing the sugars that the yeast will later feast on. The sprouting must be stopped ("John Barleycorn must die") before the sugars can be turned to alcohol during fermentation. Drying the grain stops the germination, and because peat is so common in Scotland, it was the preferred fuel for doing the drying job in the days when coal heat was a luxury.
No law compels Scotch whisky makers to dry barley with peat smoke (in fact Glengoyne and Auchentoshan don't use it all), but the tradition has passed down simply because it brings so much flavor to a malt. That the style of Islay malts is particularly peaty is probably tied to the abundance of peat there. But while some of the island's malts—Laphroaig, Ardbeg, Lagavulin—lead the league in smoke content, Bunnahabhain and Bruichladdich eschew that profile and the normally peaty Caol Ila also makes an unpeated version. Those contradictions exemplify how aspects that are often considered part of the Scotch terroir are simply regional styles that are not chiseled in stone—or peat in this case.
Nevertheless, a peat terroir does exist as the waterlogged vegetable matter has a different chemical makeup depending upon where it is decomposing. Islay's peat is high in lignum. At Orkney's Highland Park, the northernmost distillery, the peat has more carbohydrates.
Nowadays most barley reaches the whisky plant having already been peated to order at a malting plant. Laphroaig controls its own peat content (which is very high, about 50 parts per million) first by cutting the peat by hand, which retains moisture and makes the fuel burn smokier.
Secondly, it performs its own floor maltings, which is the old-fashioned method that only a handful of distilleries, such as Balvenie, Highland Park and Glenfiddich, have retained. Most of the eight Islay distilleries are supplied with barley by Port Ellen Maltings, a former distillery now devoted to germinating barley and drying it in large drums.
At Laphroaig, the barley is spread out and wetted down across concrete floors. For days workers turn the barley by hand as sprouts appear on each corn and grow to the correct length. It is then that the workers fire peat ovens, and smoke wafts up to dry the grain and stop the germination. While pagoda roofs are common on Scotch distilleries, on most they are mere vestiges of a time when they peated their own barley. In the case of Laphroaig, the spire still shrouds a chimney used for expelling peat smoke.
After the germination is halted, the barley is ready to be milled and mashed—ground into grist and mixed with hot water, creating what is known as wort. Yeast is added and the wort is put in washbacks, huge open vats with capacities of tens of thousands of liters. There it ferments for several days, turning into noncarbonated beer.
Comments
2 comment(s)
Marv Eleazer — Valdosta, GA, USA, — January 26, 2011 9:32am ET
---
stantine972 — February 4, 2011 11:27pm ET
---
You must be logged in to post a comment.
Log In If You're Already Registered At Cigar Aficionado Online