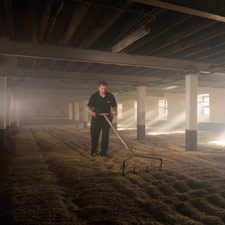 A worker at Laphroaig on Islay lays out floor maltings.
Adventures in Scotch Land
In the wide world of Scotch whisky, the rules of terroir don't always apply
(continued from page 1)
The terroir of many Scotches may best be defined by water. Glenmorangie's source is Tarlogie Springs, a short distance from the still house. It's not much to look at—a shallow pond perhaps 30 feet by 30 feet—but you can see by its sandy bottom that the clear water, which takes a hundred years to bubble up, has filtered through sandstone and limestone. Back in Islay, Laphroaig uses water that flows over the heather of granite hills and runs through all that peat in the bogs. Each has its own effect on the whisky.
Yet the differences in water sources are not only particular to large areas, but a sort of microgeology particular to each maker. Looked at through H2O, almost every still—even when built next to another—is its own region with its own personality.
While Speyside isn't thought of as making peaty whisky, quite a bit of the stuff is in the soil, Cardhu, one of the least smoky of whiskies, takes much of its water from springs in the nearby peat-filled Mannoch Hill. Nevertheless, The Glenlivet, not far from Cardhu, prides itself on the mineral-rich water it takes from Josie's Well.
Water has many functions in the whisky-making process. It first joins in when barley is steeped to begin the malting process that coaxes sugar from the grain. Then it is added in mashing, prior to fermenting a crude beer. It is in these stages that water quality is thought to have the greatest effect, as it interacts with the grain and yeast.
Water is further needed during distillation. This step captures high-proof spirits by essentially boiling alcohol out of the beer and then condensing it back into liquid form. Some whisky men feel that the temperature of the water used to cool the steaming spirit has a distinct effect on taste. If this is true, the cold waters of such high-altitude distilleries as Dalwhinnie and Tomatin would have a dramatically different influence than those at the distilleries closer to sea level.
Balvenie, another Speyside, has a fruit quality to it.
When whisky comes out of the cask years later, it is typically far above 100 proof (half alcohol) and water is once more used to dilute it to bottle strength (which can be as low as 80 proof, or 40 percent alcohol). This water can be a moot point in the terroir debate, however. That is because it has been typically distilled for neutral taste and usually doesn't share the geography of the rest of the liquid as few distillers bottle on site.

GOING WITH THE GRAIN
In wine, terroir is largely a function of organic content, when the grapes used to make the juice are grown in the same place as the winery. This is hardly so in Scotland, where very little of the barley in a whisky is likely to be grown in the area where the spirit is produced. Regulations don't even stipulate that the grain content come from Scotland, although much is grown in its coastal areas. (Other popular barley sources are England, Scandinavia and Africa.) Some distilleries buy a portion of their grain from nearby farmers or have their own plots, but the volume of barley necessary usually precludes a 100 percent single-estate approach to grain.
The recent thrust has been to buy barley within Scotland, but the impetus behind that has been mostly economic rather than terroir-driven. (Shipping costs are prohibitive for foreign barleys.) Barley purchases tend to be pragmatic—the yield of alcohol-to-grain is the foremost determinant. But even while new varieties of barley are constantly being developed with names like Optic, Tankard and Chariot, Macallan highly prizes the less alcohol-efficient Golden Promise, a strain that has been used since the 1960s. However, it has had to add other strains of barley to have enough to meet demands.
A notable exception to the practice of mixing barley varieties is 1991 Triumph in The Glenlivet Nadurra line. As well as being a vintage whisky from that year, it was made wholly with Triumph barley. Moreover Glenlivet no longer uses that type of barley, so don't expect to see much of that.
Comments
2 comment(s)
Marv Eleazer — Valdosta, GA, USA, — January 26, 2011 9:32am ET
---
stantine972 — February 4, 2011 11:27pm ET
---
You must be logged in to post a comment.
Log In If You're Already Registered At Cigar Aficionado Online