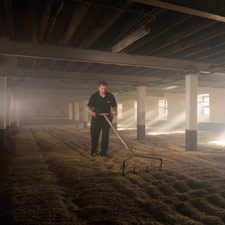 A worker at Laphroaig on Islay lays out floor maltings.
Adventures in Scotch Land
In the wide world of Scotch whisky, the rules of terroir don't always apply
Step into a bog anywhere on Islay and the source of the smoky flavor synonymous with the whisky of this westerly island of Scotland begins to sink in—just as soon as your foot begins to sink into the spongy, peaty turf. Plants decomposed for 10,000 years under the grassy surface create a handy fuel with which to dry the barley that forms the granular heart of a single malt. Turned into liquid, it still tastes of its bath in the bog's smoke. Now board a boat and view Islay from the sea. Looking in at the coast where warehouses for Laphroaig, Lagavulin and Ardbeg line up a few feet from the waves and you'll likewise understand whence their salt and iodine tasting notes arise. Surf batters the shore, churning up briny water and seaweed into the air the sleeping whisky breathes.
You don't have to be a spirits chemist to figure out how the land and the sea shape the whisky that flows from Islay.
Wine makers call this terroir—that special relationship between place and product that can explain why the same grape variety grown in the same way in two places can taste so different. In Scotland, a hundred distilleries dot the map, each making unique whiskies that speak—in a shout or a whisper—of the diverse locations in which they are made.
For this reason, it is popular to divide the country into a number of whisky-making regions with a view to categorizing tastes. This may be handy, but it's a little too convenient to describe the country with the most diverse whisky styles in the world. Too many other factors go into production and too many contradictions exist for such a mysterious and irascible land as Scotland to be so neatly labeled.
It is easy to say that Islay whiskies are bold and smoky, Speysides are sweet and fruity, Lowlands delicate and floral, and for the most part you'd be right. But what of the huge Highlands area? It is widely spread out and includes a number of malts that are hard to reconcile stylistically. What some call the Islands region is an easy way to cordon off the Highland distilleries that are not on the mainland, but those islands are far flung and once again bridle at conformity. The Scotch Whisky Association, for purposes of labeling, recognizes five regions: Highland, Lowland, Speyside, Islay and Campbeltown, but that last designation isn't very useful as it refers to only three distilleries in a very small area. More industrious labelers have divided the Highlands into East, West, Central and North and separated the islands into Arran, Jura, Mull, Skye and Orkney. But then that's a lot to process, if the point is to simplify Scotch.
So how do you come to terms with Scotland's whisky diversity? Happily, the great majority of the country's distilleries welcome visitors and are very proud to explain what sets their products apart from others. Short of a Caledonian tour, you can also explore by reading on or, perhaps in happier manner, by further tasting.
Far north and east of Islay in the Highlands town of Tain near the North Sea, the Glenmorangie master blender and whisky creator Rachel Barrie leads a tasting of the wide range of whiskies she helps create. She starts by pointing out that only three things go into Scotch malt whisky—water, barley and yeast. It doesn't take long to catch on to her irony. Not only is her fruity and oaky whisky markedly different than that of most Islay whiskies, the expressions she offers—the original, Sonalta, Quinta Ruban—vary from glass to glass even though they were born of the same still.
To understand why, you must look not only to the variations that are allowed within Barrie's terse summation of the formula, but also to other variables it doesn't include.
FOLLOW THE WATER
Cardhu is an elegant example of Speyside.
The first factor to consider with Scotch whisky is water. Every distillery has an enormous thirst and is typically built close to a generous source that has been determined to yield the best water for its job. It is supposed that when the John and Tommy Dewar built their Aberfeldy distillery to supply their famous blended whisky, they choose the location because of its proximity to their father's birthplace. Nostalgia notwithstanding, the savvy brothers would not have picked the location, if the Pitilie Burn, high above it, hadn't already proved to be an excellent water source for a distillery that had formerly operated nearby.

The Speyside region offered two advantages to the early distillers that first crowded its hills and mountains centuries ago: haven from the authorities (most were moonshiners in the early days) and the numerous springs that feed the River Spey. While they might have moved closer to the city when taxes eased enough to make it profitable to operate in the open, the stillmen stayed for the felicitous water sources.
Comments
2 comment(s)
Marv Eleazer — Valdosta, GA, USA, — January 26, 2011 9:32am ET
---
stantine972 — February 4, 2011 11:27pm ET
---
You must be logged in to post a comment.
Log In If You're Already Registered At Cigar Aficionado Online