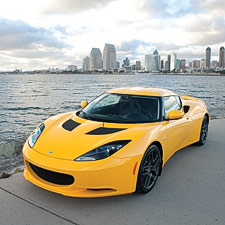 The Lotus Evora is the marque's first 2+2 since 1992, but when it bolts from 0 to 60 in 4.9 seconds it won't be mistaken for a family car.
The British are Coming
English automakers created the standard for high-line vehicles. Now after wrestling turbulent economies, they introduce some of their best and most competitive cars.
(continued from page 5)
While the days of the empire are long gone, there's something about the products of the Morgan Motor Co. that harks back to a bygone era. The very retro-influenced design, for one thing, with sweeping, offset fenders that could be lifted nearly whole from the 1930s. And the fact that the boutique brand continues to use wood for the underlying chassis, even today, 101 years after its founding by Henry Frederick Stanley Morgan.
HFS, as he was generally known, ran the maker until his death in 1959, when son Peter took over. Today, Charles Morgan, the grandson of the founder, is at the helm, and he has been carefully crafting a new generation of products that have one axle in the past, the other in the future.
Consider the Aero Max, with its distinctive split-window boat-tail rear. The 367-horsepower two-seater falls into the rarified supercar class, capable of launching from 0 to 60 in just 4.4 seconds, with a top speed of more than 170 mph. Yes, there are still modified running boards, and the body frame is yet again made from ash, but the chassis is lightweight aluminum, and the overall car weighs well less than the more modern-looking BMW M3.
Morgan is producing just 100 copies of the $220,000 Aero Max, slightly more of the soft-top Aero 8. But the company is about distinctive, classic, even quirky design, not about volume. It typically produces well under 1,000 cars annually.
Morgan is the most obvious tie between past and present for the British auto industry. Things have changed dramatically since the days when British warships ruled the seas—and the roadways. The U.K. has created more brands that remain on the market than most countries in the world, but today, the majority of those nameplates are foreign owned. And while that may be a bit of a blow to British pride, marques like Bentley, Rolls-Royce, Jaguar and Land Rover are now producing not just some of the best cars in English automotive history, but some of the best products in the world. Rule Britannia.
Paul A. Eisenstein is publisher of TheDetroitBureau.com on the Internet.
You must be logged in to post a comment.
Log In If You're Already Registered At Cigar Aficionado Online