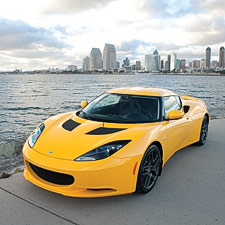 The Lotus Evora is the marque's first 2+2 since 1992, but when it bolts from 0 to 60 in 4.9 seconds it won't be mistaken for a family car.
The British are Coming
English automakers created the standard for high-line vehicles. Now after wrestling turbulent economies, they introduce some of their best and most competitive cars.
(continued from page 1)
Yet, as with Rolls-Royce and Bentley, the British makers who've survived are now turning out some of the best and most competitive products in their history. Here's a look at what they're up to.
Rolls-Royce: Taking Aim at the Affluent Mainstream
Though the big Phantom and its spin-offs, such as the Drophead Coupe, are the flagships of the Rolls-Royce fleet, the new Ghost is expected to become the best-selling model in the brand's history.
Named for the legendary 1906 Silver Ghost, it's a decidedly different animal than the in-your-face Phantom, with which it shares an assembly plant in Goodwood, a couple hours' drive from London. Yes, there's still the classic "Spirit of Ecstasy" hood ornament above the waterfall grille, but Ghost is a more subtle sedan—if one can use that term to describe a $250,000 automobile.
As always, some owners will likely prefer to have a chauffeur handle driving duties, but with Ghost, Rolls hopes to appeal to a more involved, if still top-tier, buyer. Words like driving dynamics and performance come into play, concepts that the saloon car can readily deliver with its 563 horsepower 6.2-liter V8.
As well as the requisite wood and leather, Ghost offers modern luxury touches. There's a big navigation screen in the center console, and twin video monitors for rear-seat passengers. You can even plug in an iPhone or use the Bluetooth system for hands-free calling. And borrowing from parent BMW, the new car features the latest in safety systems, including active cruise control and radar technology that can warn a driver of an impending collision.
Unveiled in 2009, in concept form, as the 200EX, the new sedan will be just one of several body styles to boast the Ghost badge, Rolls officials confirm. Although specific plans are still under wraps, expect to see a convertible—or drophead, in British parlance—among other variants.
While Rolls CEO Torsten Mueller insists the brand is now making money, the Ghost will be a critical part of its business case, going forward. After a slow and agonizing start, the maker is selling about 1,000 Phantom variants annually. Even if the Ghost triples that output, as the maker predicts, that's barely a single day's production for a mainstream assembly plant. But for this BMW subsidiary, it could provide a very handsome profit, indeed, says Mueller.
Bentley: Reaching Up
After its acquisition by Rolls in 1931, Bentley became an automotive afterthought. By the early 1980s, the brand accounted for barely 5 percent of total Rolls-Royce Motor Co. volume. Then came the introduction of performance-oriented Bentley models, such as the lightning-quick Turbo R, and suddenly the equation turned upside down.
You must be logged in to post a comment.
Log In If You're Already Registered At Cigar Aficionado Online