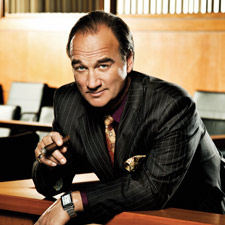 Chasing the Magic
With a new TV show, "The Defenders," Now on prime time, Jim Belushi says he's no shooting star but a working actor who can make you smile.
(continued from page 6)
In spite of the length of his career and the breadth of his body of work, Belushi is also still able to be starstruck at an invitation to act for a director whose work he admires. It happened when Roman Polanski cast him in a small role in his film The Ghost Writer, released earlier this year.
As Belushi recalls, "My agent called me and said, 'Mr. Polanski is interested in you for a role in a movie he's doing'—and I said, 'Me? Are you sure? I mean, he's been out of the country for 33 years—maybe he thinks John is still alive. Are you sure he wants me?' And he said, 'It's not a big part,' and I said, 'Take it! Are you kidding—a Polanski film? I don't even need to read it. And don't bust their balls about the money.'"
The character was an American book publisher, a powerful guy who happened to be completely bald. But when Belushi spoke to Polanski before going to Germany to shoot, Polanski told him, "I've seen your hair. It's not a problem. Although Yul Brynner did very well with the ladies."
While shooting his single lengthy scene, Belushi told the hair story to the other actors on the set, including Ewan McGregor and Timothy Hutton. Even as he was regaling them, Polanski walked in, put a hand on Belushi's forehead to mask his hair and make it easier to envision him without it, then said, "Let's cut it."
"Everybody laughs," Belushi recalls, "and he starts walking me to the makeup room. But like it's a big joke. I'm waiting for them to stop and say, 'Just kidding,' but he doesn't. He walks me out of the studio and into the makeup room and I'm thinking, 'God, he's carrying this joke a long time.' And the next thing I knew, my hair was gone."
Afterward, Belushi says, Polanski took him aside and said, "That made the scene."
"I thought I looked like Marlon Brando in Apocalypse Now," Belushi adds. "It was the single coolest day of my career, working with him. Then I came back and a friend looked at me and said, 'Oh, are you going to do Annie with your daughter?'"
The Polanski story illustrates the Belushi dichotomy: the actor who is cast without audition by the Oscar-winning director, but who can't quite believe that it's him they want. It's a perspective that still informs Belushi's outlook on life.
"I did Michael Mann's first film, I did Oliver Stone's second, I got to work with Polanski-now I just need to work with (Martin) Scorsese and I'm done," he says. When someone mentions the Coen brothers, he says, "Oh, the Coen brothers—they're great but I'm not on their radar. Scorsese, either. I mean, Polanski reached way out of the box for me. Someone has to believe in you and be willing to take a risk."
But then he pauses, considers for a moment and observes that, in fact, that has happened to him on several occasions.
You must be logged in to post a comment.
Log In If You're Already Registered At Cigar Aficionado Online