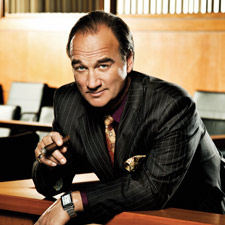 Chasing the Magic
With a new TV show, "The Defenders," Now on prime time, Jim Belushi says he's no shooting star but a working actor who can make you smile.
(continued from page 5)
"It was an audience show, not a critics' show," Belushi says. "I didn't read one review. I was making a family show for my kids. I loved it and the people of America loved it."
Notes his "Defenders" costar O'Connell, "Eight years on TV with one show—how often does that happen?"
And now Belushi is back to the TV series routine, which lets him live at home and gives him his weekends with his family: "These are TV times—everyone is coming to TV," he says. "I'd do a film in a heartbeat but there aren't many out there."
He still plays regularly with his music group, the Sacred Hearts Band, for which he serves as bluesy lead singer—a role he also takes for the dozen or so gigs a year he and Dan Aykroyd do as the Blues Brothers. When Aykroyd first suggested that Belushi fill in for his brother John, who died of an accidental drug overdose in 1982, it was the mid-1990s—and Belushi resisted.
"Now I see this as a gift I've gotten from John," he says. "Danny and I conjure his spirit at every show; we're keeping his spirit alive. I remember the first time I sang the song, 'Sweet Home Chicago,' and I thought, 'Oh, I get it. Thanks, John.'"
When he talks about his late brother, Belushi takes pains to point out that he felt the loss as a brother, but as something else as well: "I loved him and I was a fan. He made me laugh as hard as you. And laughter strikes right into the heart of intimacy; you feel an intimacy with someone who makes you laugh that hard. I feel that intimacy with Jackie Gleason, with Dick van Dyke and Richard Pryor and Lenny Bruce. And I had it with John; so did a lot of people.
"I was never in competition with John. Look, he was brilliant and I'm just another actor. I always looked at it this way: There's nothing more beautiful in the sky, nothing that takes your breath away for a fleeting moment, like a shooting star. And John was definitely that. You can't take your eyes off that. You make a wish on a shooting star because it's magical. A shooting star is a dying star but it gives you a moment of magic before it goes.
"Now I'm not a shooting star, but I'm one of the stars in the galaxy. On a clear night, you can see me pulse a little. You can count on me and, on a beautiful evening, I can make you smile."
Belushi doesn't soft-sell his own accomplishments. Still, he's enough of a Midwestern native that he gets excited when he meets actors whose work he admires. To illustrate, he pulls out his phone and pulls up a photograph: It's a shot of him, a silly grin of pleasure on his face, standing next to Michael C. Hall, star of Showtime's "Dexter," taken at a gathering of Viacom affiliates (which include both CBS and Showtime).
"Look at me in this picture—I look like a dumb fan," Belushi says. "I had to calm down when I talked to him. I'm a real goof that way. I was the same way when I met Kate (actress Evangeline Lilly) after the first season of 'Lost' when I was at ABC. I kind of get lost in TV."
You must be logged in to post a comment.
Log In If You're Already Registered At Cigar Aficionado Online