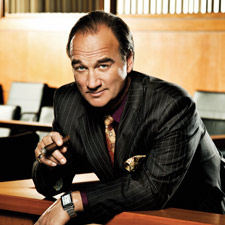 Chasing the Magic
With a new TV show, "The Defenders," Now on prime time, Jim Belushi says he's no shooting star but a working actor who can make you smile.
(continued from page 4)
Belushi recently had a conversation about careers with his son Robert, 29, from his first marriage (Belushi and wife of 12 years, Jennifer, have a girl, 11, and a boy, 8), who Belushi refers to as "the smartest and the handsomest Belushi yet." Robert is a writer and actor who has also found that owning a familiar name can be hard.
"My son said, 'It's a lot of weight to carry, Dad,' and I said, 'Well, the thing about a weight is that, when you carry it for a while, it makes you strong. When you lift weights, your muscles get bigger. This weight will make you a stronger actor because of it.' Some people see me as living in John's shadow. I call it shade."
Belushi got an education in the reality of being a comic actor named Belushi on his very first job in Hollywood, a sitcom called "Who's Watching the Kids," where Belushi resisted a script that had him dressing up in a bear costume.
"At Second City, our motto was that anybody can be funny, but can you be funny and say something about the world around you?" Belushi says. "For one episode, they wanted me to wear a bear outfit and I didn't want to. I fought it—so I got called to the principal's office, the producer, Garry Marshall.
"Garry says, 'I understand you have trouble putting on the bear costume,' and so I told him all my reasons for not wanting to. And he pauses a minute and then he says, 'Didn't your brother put on a bee outfit? Didn't I see that? And didn't he pour mustard on his own stomach in a movie?' And I said, 'OK, I'll put on the bear outfit.' I had a lot to learn."
Belushi ran into something similar when he was chosen for "Saturday Night Live," where he was a cast member from 1983-85. His brother, after all, had helped create the mold for the show, with characters such as the Samurai and the Blues Brothers, as well as his legendary impression of rock singer Joe Cocker.
"All my advisers told me not to do 'Saturday Night Live', that the press would clobber me," Belushi recalls. "But I'm a Second City actor. And 'SNL' was the next extension of that. Everybody wanted to be on it. And the press actually was very gentle with me. Being on that show was like being in a MASH unit. It was the toughest thing I've ever done. Everything, including divorce, has been easy in comparison."
Since then, Belushi has moved regularly between TV, film and stage. Besides replacing John Malkovich in True West, he stepped into the role of the Pirate King in the hit Broadway production of The Pirates of Penzance, then took over the lead role from Judd Hirsch in Herb Gardner's Conversations with My Father, which he describes as having "more lines than King Lear. I remember arguing with Herb, saying, 'It's a beautiful play but some of my speeches are anti-Semitic. Only a Jew can say those lines and I'm not Jewish.' And Herb said, 'In four weeks of rehearsal, I'll give you 2,000 years of persecution.'
"All the Broadway I did was as a replacement. Now I'm waiting for a play where I can originate a role."
He's had his share of starring roles in movies, from Red Heat and Salvador to About Last Night and Curly Sue. And he's got an eight-year run under his belt with "According to Jim," a popular hit that seldom won awards or critical favor.
You must be logged in to post a comment.
Log In If You're Already Registered At Cigar Aficionado Online