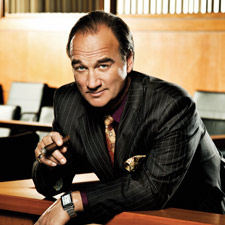 Chasing the Magic
With a new TV show, "The Defenders," Now on prime time, Jim Belushi says he's no shooting star but a working actor who can make you smile.
(continued from page 3)
Which reminds him of a story about smoking cigars with a friend in his backyard, as they sat with their wives after dinner: "I bring out the cigars and my friend is holding it, thinking. Then he turns to his wife and says, 'I'm thinking about having a cigar tonight.' And she says, 'Well, don't expect any kissing.' And he thinks about it for a moment and says, 'We've been married long enough that we don't have to kiss while we're making love.'"
Belushi has an education degree from Southern Illinois University with a speech major; he even taught a little after college. But it took flunking his delivery of a speech in high school to land him his first acting role.
"I remember that the Moratorium to end the Vietnam War was on a Sunday—and I had to give a speech in class on Monday and I wasn't prepared," Belushi says. "So when I was called on, I went up there and pretended to be a Yippie and screamed at the class for not being at the Moratorium. The teacher flunked me on the speech—and then cast me in a one-act he was directing.
"That first time going out and getting a laugh—it was like magic, the adrenaline. And I've been chasing that magic ever since." Belushi pauses, then says with a mischievous smile, "The real truth is that, once I got to theater, I stayed with it because that's where you could meet girls. I was a tackle in football—and the girls were not screwing the tackles. And nobody came to wrestling meets. But in drama, there were 18 girls and five guys. During rehearsal, the girls would get a chance to know you and they'd start to think, 'He's not so bad.' It was the same thing with choir; that was 40 girls and 8 guys. I know I'm not the most handsome guy. I was just playing the numbers.

"But once I got onstage, my status changed. So I guess you could say women led me to where I was supposed to be—including my wife. She's the one who said, 'This is a good script.' She said it about 'Defenders' and she said it about 'According to Jim.'"
Belushi also had a role model: his brother John, older by five years, who had become something of a local legend as a performer at Second City, Chicago's legendary mecca of improvisational comedy. John Belushi was part of a Second City generation—in Chicago and Toronto—that included Dan Aykroyd, Gilda Radner, John Candy and several others who would become the original casts of two of the 1970s most influential comedy shows: "Saturday Night Live" and "SCTV."
"When I saw John at Second City, it changed my life," he says. "To this day, it's the best show I've ever seen. Talk about magic. I was 16 and, until I was 23, all I wanted to do was be in Second City."
He went to a junior college, then transferred to Southern Illinois, where he met a mentor who steered him toward speech education: "His name was Richard Holgate and he took me under his wing and trained me. Not just as an actor, but as a young man. I'd be in jail if it weren't for him. I needed attention and I needed boundaries. I'd get in trouble—stupid stuff, knucklehead stuff. He pointed me in the right direction."
Toward the end of his senior year, Belushi auditioned for and was accepted in Second City's touring company. He became one of the Chicago company's stars, until Second City head Del Close told him it was time to spread his wings: "I had no grand plan," Belushi says. "All I ever dreamed of was Second City. Everything I do today is still based on what I learned there in three years."
He went to Hollywood, where he found that his name was famous, thanks to his brother. But that was an advantage that could cut both ways.
"Having the Belushi name got me in the room for auditions," he says. "But then I was dealing with people who had preconceived notions or preconceptions about who I was, based on my brother. They wanted me to be like him or they let me know I was just there because of my famous brother. It was not the same as coming in unknown and creating a persona. First, I had to knock away the perceptions and then convince them that the persona I'm creating is right for their project."
You must be logged in to post a comment.
Log In If You're Already Registered At Cigar Aficionado Online