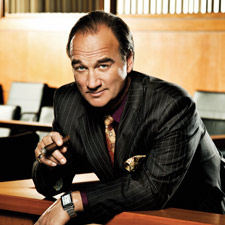 Chasing the Magic
With a new TV show, "The Defenders," Now on prime time, Jim Belushi says he's no shooting star but a working actor who can make you smile.
(continued from page 2)
"This character lives in the world of the real," Walker says. "He's a real guy, an everyman not pretending to be what he's not. Jim is the perfect actor for a show like this. Very few people have the ability to merge the two acting styles-to be serious and to be funny, and to make it feel seamless. Jim doesn't struggle with that. He has the ability to be a very believable character in a multiplicity of tones. That's a very rare, if not unique, trait."
Oh, and like Belushi, Nick Morelli, is a cigar smoker (though, because of network standards, he can only hold a cigar in his mouth, but not light it). Indeed, O'Connell figured out how to woo Belushi before O'Connell had even been chosen to play his partner.
Recalls Belushi, "Jerry came over to the house with a couple of Cubans and we sat for three hours by the pool, smoking and drinking beer. This was before he had the part. The next day, we did his test and he got it. He made that relationship work."
"Before our first meeting, someone told me, 'Bring him a couple of nice cigars,'" O'Connell notes with a smile. "Jim really is a cigar aficionado. He's got a real wealth of knowledge. Whenever you go to his house, you can't leave without having an amazing cigar and an amazing glass of wine."
Belushi's relationship with cigars began with the governor of California. When Belushi was cast opposite then-actor Arnold Schwarzenegger in 1988's action-comedy, Red Heat, he couldn't help be exposed to Schwarzenegger's love of fine tobacco.
"The fucker smoked a Montecristo No. 2 in a cop car with the windows closed," Belushi recalls with a laugh. "The car filled with smoke and I got sick to my stomach. Arnold says, 'What's the matter, Jim? Does a little cigar smoke bother you? Here—try one.'
"That is not a cigar you want to start with. I was green after I smoked that. But I started smoking cigars on the set and I was off and running." Cigars, he says, give him a feeling of leisure: "There's something that allows you to sit and be in the moment. It makes me feel like, hey, you know what? I'm doing alright. As opposed to the struggling in your mind to do better or with what you've done in the past. You can forget that; it's a respite where you feel, 'I'm doing alright.'"
Belushi, who once was partners with Chuck Norris in a cigar company called Lone Wolf ("I didn't make a dime but I got a great education"), keeps three humidors, including one in his dressing room. (Nick Morelli's office also features a humidor, as well as several classic cigar boxes.) His taste runs from medium to strong cigars: "An OpusX, say, is a little too rich for me—that's a big smoke." He prefers a larger ring gauge because he feels it provides a better draw.
"The draw is very important to me," Belushi notes. "I like a Fuente or a Fuente Hemingway Classic—that's a perfect daytime smoke for me. The other day I had a Partagas Serie P No. 2, a torpedo. Goddam, did that smoke good. Those Dominican cigars always have a good draw; I find Cubans to be about 50/50.
"I'll get pissed if someone gives me, say, a Cohiba Esplendido. It's got a nice ring gauge, it's a great company, a great cigar, an expensive cigar—and then I have to light it four or five times. That's frustrating. I'll tell you: Not every cigar in a box of Cubans is a good cigar. But every cigar in a box of Fuentes is a good cigar."
You must be logged in to post a comment.
Log In If You're Already Registered At Cigar Aficionado Online