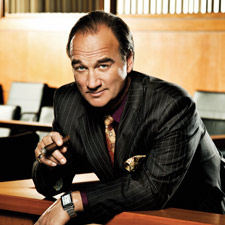 Chasing the Magic
With a new TV show, "The Defenders," Now on prime time, Jim Belushi says he's no shooting star but a working actor who can make you smile.
(continued from page 1)
"I was driving with her the other day, now that we've been shooting this show for a while. And I said, 'You know, I feel really good.' And she said, 'Man needs to work.'"
In fact, during his hiatus, along with his taste for cigars and wine, Belushi was developing a couple of television series himself when "The Defenders" came along: "One of them was actually a lawyer show," says Belushi, whose eyes seem to shift from green to blue and back again, depending on the light he's in. "But this one came along quicker, before I could get mine into development."
But he couldn't say no to "The Defenders," because of its blend of comedy and drama, with an emphasis on the dramatic. Morelli and partner Pete Kaczmarek take on consistently oddball cases, many of which are based on cases of the real-life lawyers (Marc Saggese and Michael Cristalli) on which the characters are based. But the Morelli character, while inspired by Cristalli, has quickly evolved into someone Belushi is helping to develop.
"He is Nick Morelli," says Niels Mueller, executive producer and cocreator of the series (with Kevin Kennedy). "It's an absolute joy to write, being able to hear Jim's Nick in our heads. When he gets to the set, suddenly Jim disappears and there's Nick. You forget about the lights and you feel like you're an interloper in Nick's office. And Jim is always looking to peel back another layer-to find humor in the drama, to find drama in the humor."
The office set itself-an expansive set of well-appointed rooms decorated with classic gangster mugshots, sports memorabilia and vintage slot machines-has been built on CBS's Stage 9, which has a plaque next to its main door, denoting the fact that this soundstage was home to "Seinfeld" for most of the 1990s. Asked whether the plaque is intimidating, Belushi is quick with a reply.
"You know, we shot 'According to Jim' on this stage," he says with mock indignation, observing that his show shot there for most of the first decade of the 21st century. "I even have the same dressing room."
On this particular day, Belushi, whose sturdy frame is definitely sleeker these days ("I quit drinking beer when I got this part—and lost 10 pounds"), is wearing a dazzling wine-and-navy-striped dress shirt by Ben Sherman, with a navy suit by Ermenegildo Zegna. He and O'Connell will also be dressed by Versace, Hugo Boss and Dolce & Gabbana. Belushi, his hair neatly combed back, looks pleased to be playing someone who dresses with such flair, let alone someone with Morelli's cagey legal intelligence.
"Playing dumb is harder," Belushi says. "Because you've got to really commit to the character. I remember when I took over for John Malkovich off-Broadway in True West. Gary Sinise was directing me in it and here was the note he gave me: 'Jim, these are dumb fucking people.'
"I had a problem on 'According to Jim,' because, when we would have discussions about the character, I'd bring my intelligence to it, saying, 'Well, wouldn't he do this or this?' And they'd tell me, 'Jim, this guy isn't there yet. You've been there. This guy hasn't.' So you're dumbing it down, putting yourself back to when you didn't have those insights."
Belushi infuses Nick Morelli with both the courtroom savvy of a veteran attorney and the not-always-unflappable demeanor of an everyday guy, says Greg Walker, another of the series' executive producers.
You must be logged in to post a comment.
Log In If You're Already Registered At Cigar Aficionado Online