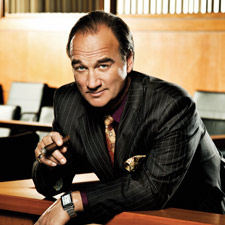 Chasing the Magic
With a new TV show, "The Defenders," Now on prime time, Jim Belushi says he's no shooting star but a working actor who can make you smile.
Jim Belushi is relaxing in his dressing room at CBS Studios in Studio City, California, indulging himself in his daily post-lunch cigar ("It's a Fuente Gran Reserva—and it's delicious"), remembering the day he auditioned for—and was accepted into—the company of the legendary comedy improv group Second City, in Chicago.
Belushi, who was still finishing his degree at Southern Illinois University at the time, was ecstatic. And then he got a phone call from his brother John Belushi, a Second City alumnus who was already a star on "Saturday Night Live."
"John said, 'What's going on?' and I told him I'd been accepted for Second City's touring company," Belushi, 56, says. "And he said, 'Are you sure you want to do comedy? Aren't you more of a dramatic actor? Don't you think you'd be better at the Goodman (Theater)?' And I said, no, this was absolutely what I wanted to do.
"And now here I am doing a drama. This show fits me like a glove. And I'm thinking that, maybe, 30 years ago, he was right."
The show in question is "The Defenders," a new legal drama (with strong comic moments), in which Belushi and Jerry O'Connell play a pair of colorful Las Vegas defense attorneys. The CBS show, which debuted in September, is based on a pair of real-life attorneys who practice criminal-defense law in Las Vegas, a locale that provides a colorful setting for stories blending legal issues, courtroom tactics and the very untidy personal lives of two hard-charging lawyers.
"He's excellent in the courtroom and a moron with women," Belushi says of his character, Nick Morelli. "Hmm, sounds very male, doesn't he? I was looking at the script for the next episode; he's representing a father and son and that brings up a lot of stuff for Nick, about his father and mother. I haven't created that part of Nick's world yet; there's so much to discover. I love the challenge of that."
Says his costar, O'Connell, "People don't realize how dramatic Jim can be. They think of him as the 'According to Jim' guy. But this is far from that sitcom role. He's a very dramatic, intense dude. He's got these dead Albanian eyes when he wants them, this Albanian intensity. I think a lot of people will be pleasantly surprised."
For Belushi, the show is a relatively quick return to the rigors of series television; "According to Jim," his hit sitcom on ABC, ended its eight-year run in 2009. According to the real Jim, it was his wife, Jennifer, who insisted he find a new role.
"I took a year and a half off and tried to discover all the different wines in Wine Spectator," Belushi jokes about the period after "According to Jim" ended. "And I went through quite a few. But I drove my wife crazy. I started smoking more cigars in the house—I mean, I've got a basement and I figured I could do it there. But she'd yell down, 'It's drifting up!'
"Plus I started micromanaging her, standing over her at the stove. I was like a kid wanting to hang out with his mom. Finally, I think she called my agent and said, 'Will you get his ass back to work?'
You must be logged in to post a comment.
Log In If You're Already Registered At Cigar Aficionado Online