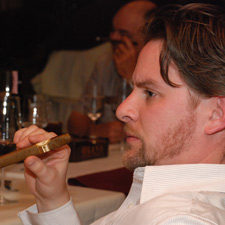 Sam Leccia Leaving NUb and Oliva
David Savona
Posted: November 4, 2010
Sam Leccia, the face of the NUb and Cain cigar brands, is parting ways with Oliva Cigar Co., the maker of the brands.
"It's true that Sam [Leccia] will not be at the company beyond this year," said Jose Oliva, vice president of Oliva Cigar. "I can confirm that he won't be at the company beyond 2010. Because we're still in a series of talks, we're not really ready to release the details of this parting."
Oliva said production of NUb, sawed-off, ultra-fat smokes that have become quite popular since their launch, and Cain, a newer, all-ligero brand, will continue as before. All NUb and Cain cigars are made by Oliva in Nicaragua. Oliva also makes a considerable number of cigars under the Oliva brand name, such as the highly rated Oliva Serie V line.
"The NUb and Cain brands are Oliva brands, so that all stays the same," said Oliva. He said Leccia does not own part of the brands.
Oliva said NUb and Cain would be put under Oliva's new Studio Tobac umbrella.
Leccia, reached by phone today while on a stop of the Cain F Tour, had no comment about the departure. "I'm at an event right now," he said. "My focus is on finishing off the tour and giving the customers what they paid for." The tour concludes on November 19.
NUb cigars were created by Leccia and Oliva Cigar and launched in 2008, with the idea of isolating a cigar's "sweet spot." Most measure around 4 inches long with ring gauges as thick as 66.
Comments
15 comment(s)
Lee B. — November 4, 2010 8:15pm ET
---
Troy Taormina — November 4, 2010 10:26pm ET
---
Lee B. — November 4, 2010 10:40pm ET
---
John Bach — November 5, 2010 9:22am ET
---
Tim Malyszko — November 5, 2010 9:35am ET
---
Charlie (aka Labman) — November 5, 2010 10:46am ET
---
R D — Nashville, Tn, USA, — November 5, 2010 10:50am ET
---
Chris A — November 5, 2010 11:19am ET
---
John Bach — November 5, 2010 12:00pm ET
---
B L — Docklands, VIC, Australia, — November 7, 2010 12:29am ET
---
Leopoldo Leal Leal — November 8, 2010 10:28am ET
---
Doug Balakovich — Nashua, NH, United States, — November 9, 2010 1:52pm ET
---
stantine972 — November 21, 2010 10:39pm ET
---
Stephan Pollard — Arlington, Texas, USA, — January 1, 2011 7:24am ET
---
David Bieritz — Batavia, Illinois, usa, — March 7, 2011 7:49pm ET
---
You must be logged in to post a comment.
Log In If You're Already Registered At Cigar Aficionado Online