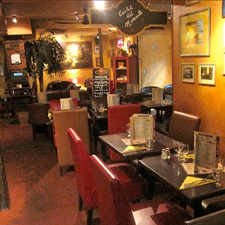 Inside Cubana Café's Smokehouse section.
Cubana Cafe in Paris Offers a Taste of Cuba
(continued from page 1)
The food isn't the reason to go to Cubana Café, but you can dine on pretty fair Cuban fare, including cold and hot tapas, such as cod fritters, chorizo, Spanish sausage, chicken wings served Cuban-style and cured Spanish ham. I loved the chorizo, the sausage and the ham. The tapas range from $4 to $10. Main dishes include the classic picadillo (beef with olive, capers and raisins, accompanied by rice, black beans and ripe plantains); pork spareribs with black beans as well as mango and sweet potato puree; and lobster a la Cubana, flambéed Cuban style.
The menu also includes some French takes on Cuban food, such as duck breast with mango and sweet potato puree. Main courses are $17.50 to $27.50, or $36.50 for the lobster.
On that rainy October day, one patron was sitting by a window in one of those comfortable leather chairs, working away on his laptop and smoking his Havana. Then a waitress called him into the restaurant, where the lunch he had ordered was ready. The weather outside was still cloudy and wet. Inside, it was warm and inviting. And the smoke was rising.
Cubana Cafe
47 rue Vavin
75006 Paris, France
01 40 46 80 81
Metro: Vavin
cubanacafe.com
You must be logged in to post a comment.
Log In If You're Already Registered At Cigar Aficionado Online