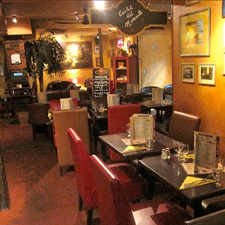 Inside Cubana Café's Smokehouse section.
Cubana Cafe in Paris Offers a Taste of Cuba
A gray and rainy day in Paris, October cool. Montparnasse pedestrians grudgingly open umbrellas as the sidewalks glisten wet. Down the boulevard, in a part of Paris where Ernest Hemingway, T.S. Eliot, F. Scott Fitzgerald, Henri Matisse and even Lenin and Trotsky once roamed, sit classic French cafés—Le Select, La Rotonde, Le Dôme and of course La Coupole. Any of those world-famous gathering places might be suitable for fleeing the autumn weather, but no, we want a cigar.
These days in Paris the interiors of cafés and bistros and restaurants are smoke-free, dictated by law.
What to do? Well, around the corner from those tobacco-less zones sits a café that offers another kind of escape-a journey to the warm Caribbean, a touch of Havana in Paris, with fine Cuban rums and the finest Cuban cigars. It's the kind of place that Hemingway might have frequented if it had been around when he was.
It's called Cubana Café, and that's exactly what it is. The décor is distinctively Latin; the sound of salsa and other Caribbean tempos emanate from stereo speakers; on Wednesdays after 8 p.m., the music is live, via Trio Tentation. There's wood paneling, soft leather sofas, subdued lighting; the walls are home to Caribbean-style folk art, paintings of cigar wrappers, even a photo of Fidel, when he was young and strong.
Afternoons are generally quiet-a time to relax, have lunch and a drink and contemplate the world while smoking your cigar. The evenings and late nights can vibrate, with the youth (and yes, the early middle ages) of Paris, both creating and responding to the beat of a unique aspect of Montparnasse nightlife. The restaurant is open daily from 10 a.m. to 3 a.m., but the doors stay open until dawn on weekends.
Now, you may ask: Why is this café different from other cafés? Why can you smoke a cigar there but not inside La Coupole? Here's the explanation: Yes, French law no longer allows smoking in restaurants and cafés. But that is unless there's a special, enclosed room. And that's what Cubana Café has. It's called the Smokehouse, and it has comfortable brown leather lounge chairs, Caribbean plant life and, to emphasize the room's function, a large painting of Orson Welles and Alfred Hitchcock as dueling smokers.
But it's not only the cigars-the café's other specialty is fine rum. The Cuban selections include three-year-old Havana Club (which I found soft and smooth, with a distinctively subtle rum taste), seven year old, 15 year old and Maximo Extra Añejo. Rums from Guadeloupe and Martinique are also available. The rums run $12.50 to $38, at $1.40 to the euro, with the Havana Club Maximo checking in at $154. The café is also, of course, the land of the mojito ($14).
For those who prefer their alcohol from the Northern Hemisphere, the café offers fine Cognacs as well as single-malt Scotches, such as Talisker, Lagavulin, Oban, Cragganmore, Dalwhinie, Glenkinchie, Glenfiddich, Glenmorangie, The Macallan and Glenlivet. The malts are $17 to $38.
Near the bar is a humidor. You must buy your cigar and then take it into the Smokehouse- by law, no services can be made available in the smoking room. You can also bring your own cigars. The giant Cuban cigar list includes 13 brands and nearly 50 types-Montecristo, Cohiba, Partagas, Hoyo de Monterrey, Bolivar, Punch, Romeo y Julieta and Cuaba, to name but a few. Entrance to the Smokehouse is 1 euro (about $1.40) during the day and 2 euros by night; if you're staying in Paris a long time, a member's card is $210.
Cigar prices? $25.50 will buy you a Montecristo No. 2, $28 a Partagas Lusitania, it's $24.50 for a Punch Double Corona and $17.50 for a Ramon Allones Specially Selected. For $29 there's my favorite, a Cohiba Robusto.
You must be logged in to post a comment.
Log In If You're Already Registered At Cigar Aficionado Online