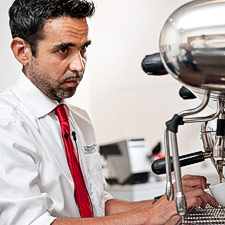 Master barista Giorgio Milos is traveling around the United States demonstrating the authentic Italian way to make espresso.
Twelve Questions for a Master Barista
(continued from page 1)
Q: What do they say about the espresso being made in the United States?
A: Well, that's not just one answer. There are some bad realities and some good realities. The good reality is that in a lot of places, the coffee is not bad. But also, it's very difficult to find out a place that makes a good espresso in the U.S. One way is to make it at home.
Q:  I understand you enjoy a cigar every now and then.
A: Honestly, I'm not that strong a smoker. I like the Montecristo. I'm not really an expert, but I love the Montecristo No. 1. It has notes of bread and toast that are very similar to what you find in a cup of espresso. That's why I like it.
Q: How well does a cigar go with espresso?
A: Amazing! Cigars and espresso both have strong tastes. I like to smoke a cigar after the espresso.
Q: What time of day do you like to smoke a cigar?
A: I prefer to smoke a cigar in the evening. It's a good combination with espresso. It's good to enjoy an espresso in the evening because it has a very low caffeine level. It is strong in taste, strong in aroma, but not in caffeine. [Reporter's note:  You often hear it said, "An espresso has less caffeine than a cup of coffee." And this is true, but a cup of coffee is usually eight ounces or more. A shot of espresso is about one ounce. So, while a shot of espresso has less caffeine (40 to 80 milligrams of caffeine) than a cup of drip coffee (between 102 and 200 milligrams) the science indicates that an ounce of espresso has considerably more caffeine in it than an ounce of drip coffee.]
Q: Have you had the opportunity to visit Starbucks, and what do you think?
A: Starbucks did a very good job at the beginning of the U.S. espresso history and it created an opportunity for us [illy] to tell our story in the United States and why we are different. Starbucks created espresso history in the United States.
Q: At what time of day can one properly drink a cappuccino?
A: [Laughs] This is a perfect question for an Italian. The best time is anytime because coffee is a pleasure. But Italians do not drink cappuccino after lunch.
For advice on how to buy a home espresso machine, read the Good Life Guide in the October Cigar Aficionado magazine, on newsstands now.

You must be logged in to post a comment.
Log In If You're Already Registered At Cigar Aficionado Online