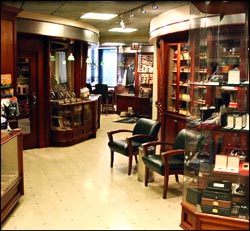 The inside of Jack Schwartz Importer.
Trying to Smoke, Chicago
Our associate editor visits the Windy City in search of cigar-friendly places.
(continued from page 1)
The next day I went to lunch at NoMI, a beautiful airy restaurant on the seventh floor of the Park Hyatt on Michigan Avenue designed with mosaic floors, etched steel panels, Venetian blown glass fixtures and a marble wine-tasting room. After lunch on my way out, I noticed a pair of glass doors near the entrance that opened up to a wonderfully spacious terrace and stunning city view. It was snowing, but I could imagine some pretty swanky cigar parties out there in warmer weather.
"Excuse me," I asked the hostess. "Do you allow smoking out on the terrace during the summer?"
"Oh no," she replied. "That would expose our employees to secondhand smoke, and we wouldn't want to do that."
Of course not.
Comments
9 comment(s)
Adam Sarrazine — October 3, 2010 2:21pm ET
---
Amy Reid — Champaign, IL, US, — December 8, 2010 5:56pm ET
---
Chris Schedel — Chicago, Illinois, US, — December 14, 2010 10:18pm ET
---
Sam Sullivan — December 28, 2010 2:25am ET
---
Vern Sheldon — Portage, IN, USA, — February 10, 2011 2:52am ET
---
James White — Chicago, IL, USA, — October 24, 2011 3:34pm ET
---
James Richardson — March 24, 2013 5:40pm ET
---
Sam Zimmerman — Arlington Heights, Illinois, United States, — August 19, 2013 11:47pm ET
---
Peter Hook — March 23, 2014 8:46am ET
---
You must be logged in to post a comment.
Log In If You're Already Registered At Cigar Aficionado Online