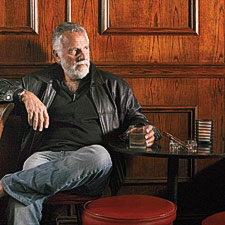 The Most Interesting (Actor) in the World
Veteran actor Jonathan Goldsmith, who portrays the Most Interesting Man in the World, has lived a life worthy of his famous alter ego
(continued from page 2)
He smoked cigarettes until 1963 when he played a cigarette smoker in the movie Act One. Goldsmith kept inhaling cigarettes down to the required length to make the scene right-it nearly killed him, and he quit. Four years later he took up cigars and never looked back.
Today, he smokes cigars along with his wife, often Dominicans, such as Arturo Fuente Hemingways, Auroras, Romeo y Julietas and a bargain brand called Villa Dominicana. Barbara likes small cigars, and puffs on little Al Capones. "I smoke a cigar every day of my life," he says. "If I have a rich lunch, then I have to have a cigar afterwards." He enjoys a Savinelli pipe as well, sometimes smoking a bowl filled with aromatic Captain Black after breakfast.
 
Goldsmith lives on a sailboat, docked 20 minutes from downtown Los Angeles, which allows him to smoke in cigar-unfriendly California. "Cocktail time, sunset, we have a cigar. I associate great cigars with the sea, the ocean. I like to sip the local rums and have a good cigar."
 
The boat is called Siempre, which means "always" in Spanish. "I live in shorts and deck shoes," he says. "I'm basically very simple. I don't need much. There's very little room on the boat for a wardrobe, and our whole room is smaller than most people's walk-in closets. That's the beauty of living on a boat. You prioritize. You practice triage on those things in your life, what is significant, what has emotional attachment." He has a vase from an uncle, silver from his grandmother, a set of four wooden plates from a special trip to the Caribbean.
Goldsmith loves the water. He enjoys fly-fishing, an art form he learned from his father. "I'd rather catch a one-pound rainbow trout on a fly rod than a 20-pound albacore." Fly-fishing reminds him of his father. "If there's someone I could have a drink with, it's my father."
This is perhaps where the character and actor most diverge. While the Most Interesting Man in the World has all the icy coolness of a James Bond, Goldsmith is far more emotional.
 
"Memories of my father-we would sit streamside just before the hatch. He'd go down to the river and tie a fly to match the hatch of the day." His eyes are red-rimmed and he chews a finger. "He would smoke a cheap cigar, a Phillies. My father was my hero." Goldsmith still has his father's fly rods and still drives his old man's car, a Jeep Cherokee. "I cry too easily," he says. "I think the cheapest cigar I've ever smoked was the best one, a Phillies with my father."
 
Goldsmith is also involved in charities, including Free Arts for Abused Children, a nonprofit that uses the arts to help abused, homeless or otherwise in peril youngsters, and S.A.B.R.E., an organization aimed at protecting Siberian Tigers.
 
The boater plans to make a change of scenery soon-he and Barbara have been looking in Vermont for property. A retirement  home. "Not to be used yet," he says with a smile. Goldsmith has plans to keep working in his interesting career for quite some time.
 
"In a way, this is kind of my swan song," he says. "This is my legacy. I want to leave a little something. I think this campaign is brilliant-it's what it's like to be a man. Most people watch life like a parade and live vicariously through the experience. This guy is a participant."
You must be logged in to post a comment.
Log In If You're Already Registered At Cigar Aficionado Online