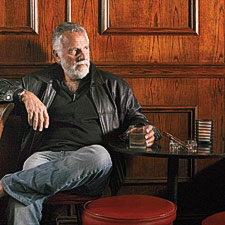 The Most Interesting (Actor) in the World
Veteran actor Jonathan Goldsmith, who portrays the Most Interesting Man in the World, has lived a life worthy of his famous alter ego
(continued from page 1)
Goldsmith says, "We didn't get along. I jumped up and said, 'Dustin, the reason you don't like me is I'm going to make it-and you're not!' " Goldsmith smiles at the memory-he was wrong on that one.
Goldsmith had a major role in the 1978 Vietnam War film Go Tell The Spartans. The movie starred Burt Lancaster and reviews were mixed, but Goldsmith won over several critics. At the time one called his work "an affecting performance." More recently, Rob Gonsalves, of efilmcritic.com, wrote "there's a gem of a performance by Jonathan Goldsmith as a burned-out soldier."
 
As he grew older, the offers started to dry up. His last gig before the Dos Equis campaign was playing an aging innkeeper in a spot for a cancer drug. "I thought it was all over," he says. Then Barbara, his manager and fiancée (now his wife) sent him on a casting call for the Dos Equis ad. They were looking for a Latin guy, and Goldsmith is about as Latin as a watercress sandwich. "I'm a Russian Jew from New York," he says with a chuckle.
He couldn't find a parking spot and nearly went home, thinking the audition a complete waste of time. After a heated call with Barbara, he went inside. Things didn't look any better. "I went on a cattle call, 400 guys, and all of them looked like Juan Valdez," he says. "I thought she had lost her mind."
With the cameras turned on, Goldsmith went to work, speaking in stream of consciousness and channeling his old friend and sailing buddy Fernando Lamas, the Argentinean actor made famous in the United States for his suave work in Latin Lover roles. "He was the greatest swordsman who ever lived. He was an amateur boxing champ and fencing champ, an equestrian, probably the most well-known actor in South America," says Goldsmith of Lamas. "And he bedded probably every woman, and their housekeepers, in Hollywood."
As Goldsmith tells it, Lamas's charm with the ladies caused friction in his friend's marriages (he had four.) Jealous wives got in the habit of hiring detectives to trail him, and the ever-classy Lamas sometimes took pity on the gumshoes who had to spend their nights watching him. "He said to me, 'There was a very stormy night, a tempest, and I knew there was some poor son of a bitch up a tree with binoculars. I'm sitting there in my den, I'm having a fine glass of something or other, smoking a cigar, and this poor bastard is out in the storm. So I, Fernando Lamas, throw open the door and say, 'Whatever tree you're in, come down and have a drink!' " And the poor guy comes down, looking like Colombo, completely drenched, and they sit there and have a drink together. He was absolutely charming."
Despite his considerable talent, Goldsmith felt he hadn't earned the Dos Equis role after the initial casting call. "I said it's not going to be me," he says. Six months later the Dos Equis people called him back. At that point 200 actors were vying for the spot. He read again. One month later, another call, and the screen test, full makeup, only two guys this time. Then he got the part. The commercials have been running since 2006.
He's now recognized when he goes out. "It relates to everyone, from the young to construction guys to elderly guys," he says. "Nothing has given me the notoriety this campaign has."
Goldsmith is comfortable in his own skin, and loves to laugh at himself. When he achieved this level of fame with the ad campaign, his press team set up a photo shoot at Mr. Chow's, a Hollywood hot spot where the famous are showered in flashbulbs as they walk in the door. "We finally got the Dos Equis campaign, second year, and we had this great public relations firm. I said do you think we have a shot at Mr. Chow's?" says Goldsmith. He was told yes, and the preparations were made. He was told to call when he was five minutes away. They were asked to wait some more. "Finally we pull up-no paparazzi. Zero," says Goldsmith. Inside, the table wasn't ready. He ran up a big tab at the bar. "I'm not a rich man, and I'm always a little concerned about a buck," he says.
He was finally told why there were no cameras. Michael Jackson had just died. Already a few drinks in and starving, he, Barbara, and their public relations rep sat down to eat, and agreed to a ridiculously pricey, prix fixe menu. The food began coming out, and it was as small as it was overpriced. "Would you like the king's quail eggs, impregnated by sterile nuns?" Goldsmith quips. "The bill was going up and up. I said 'I hope In-N-Out Burger is open.'"
 
It was looking grim. However, while they were eating, a group of men accidently bumped Barbara's chair, and when Goldsmith asked for the check (at that point, it was about $900) it turned out the group had picked it up as a way to apologize. (And Goldsmith got his full photo opportunity on another visit.)
Goldsmith is a natural around cigars, and cigars have found their way into the ads as well. The Most Interesting Man holds one in many of the spots, quite comfortably, like the smoking veteran that Goldsmith is. It pops up only in certain scenes, like the one where he's piloting a Zodiac at impressive speed through rough waters, a quartet of beauty pageant lovelies (in their evening gowns and tiaras, naturally) smiling and enjoying the ride just as much as he is.
You must be logged in to post a comment.
Log In If You're Already Registered At Cigar Aficionado Online