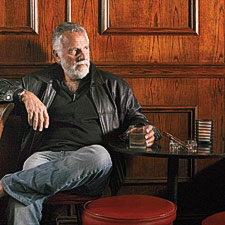 The Most Interesting (Actor) in the World
Veteran actor Jonathan Goldsmith, who portrays the Most Interesting Man in the World, has lived a life worthy of his famous alter ego
Jazzy latin music plays as an orotund narrator recounts the mythic qualities of our hero: the ability to speak French-in Russian; a personality so magnetic he can't carry a credit card; that he once had an awkward moment just to see how it would feel. "He is," the voice says, "the Most Interesting Man in the World." The man, bearded, übercool, the person every man wants to emulate and no woman can resist, is seen in various escapades: leaving a bedroom on a railroad sleeper car, two very happy women blowing him kisses good-bye; freeing a roaring Grizzly bear from a trap (while wearing a hacking jacket, of course); arm wrestling a dictator to submission and dragging a chest brimming with jewels from the depths of the sea. The kicker is the pitch, and its laid-back nature. Cue the Most Interesting Man, speaking for the first time. "I don't always drink beer," Goldsmith says in a gravelly, accented growl, which is not his normal voice, "but when I do, I prefer Dos Equis."
But while this fabricated creature is undeniably interesting, the actor who portrays him, Jonathan Goldsmith, turns out to be quite the fascinating person himself. No, unlike his character, Goldsmith's blood doesn't smell like cologne, his organ donor card doesn't list his beard and he never taught a horse to read his e-mail. "I'm not the Most Interesting Man in the World," he says. He's right-he's more interesting.
Goldsmith has been shot in the head (more than once) by John Wayne. He has feuded with Dustin Hoffman. He has acted with Burt Lancaster. He lives on a boat and drinks from a pewter goblet. And, like his character, he loves his cigars.
Goldsmith takes a seat in the back room at an Irish pub in New York City. His silver beard and intense eyes place his look somewhere between Ernest Hemingway and Fidel Castro. The beard is far from close-cropped, not unkempt, but just bushy enough to show that it's been around for quite some time. His hair is thick and wavy, better than that of some 40-year-olds, and he's turning 72 soon. His deep, tanned face and creased forehead have the look of a man who has lived a full life.
He is an actor from the old school, and he knows his way around a drink. He calls for a Gordon's Martini, up with a twist and very dry, olives and onions on the side. Gordon's may be a value gin without trendy cache, but Goldsmith couldn't care less. "It's good gin," he says simply.
Goldsmith is in his fourth year playing The Most Interesting Man in the World in television ads for Dos Equis beer, and the campaign is a hit. Despite its decidedly unconventional approach to selling brew (Someone telling the viewer that he doesn't always drink beer? In a beer ad?) sales of Dos Equis Lager were up 15.4 percent in 2009, making it the fastest growing imported beer in America, among the top 25 brands, according to Impact Databank's 2010 beer study (which is published by M. Shanken Communications Inc., the owner of Cigar Aficionado.) Nick Lake, vice president, group client director at The Nielsen Co., Schaumburg, Illinois, has called it "arguably the most recognizable beer advertising in the industry."
Goldsmith takes a sip of his icy martini, pops an olive into his mouth, followed by an onion. Life is good.
"In the twilight of my life, to get this recognition," he says. "I'm having the best time."
It wasn't supposed to work out this way. Goldsmith was born September 26, 1938, in the Bronx, New York. At the age of 17, he left home for college and was soon acting, finding enough success in theater, television and film that he moved to California at the age of 28. "California did not receive me with open arms," he said. He soon found himself in the same spot as many aspiring actors: broke. "I worked anything I could to survive job wise," he says. He took far-from-glamorous construction work and he drove a garbage truck. "Always had my blue suit at the ready as well as disinfectant," he says.
 
His break came in the form of Westerns-when asked if he could ride a horse, he answered "Yes, like the wind." He did 25 or 30 in the genre without knowing much about horses. "I bled into the saddle trying to learn," he says, until he was nearly killed on horseback. After that he learned to ride properly.
 
The saddle sores weren't as painful as the shooting by The Duke. In the movie The Shootist, Goldsmith plays a villainous cowboy who gets plugged between the eyes by Wayne. This was 1976 and special effects at the time were far from special. Wayne had a pellet gun outfitted with blood capsules, and would shoot it point blank at Goldsmith. "Each time, it raised a welt," says Goldsmith. It took seven takes. Don Siegel, the director, doubled his $700 salary to put some salve on the wounds.
 
In his early years in film, Goldsmith performed as Jonathan Lippe. His parents divorced when he was six and when his mother remarried, he took the last name of her husband. He was nicknamed "The Lip" by his fellow actors. He regrets the name change. "It always made me feel badly for my father, who never caused me any grief about it. Characteristically of him always thinking of me first," says Goldsmith. "As my career grew and my son was born I changed my name back to my real name, Goldsmith, so my father could enjoy his son's success and have a grandson to carry his name as well."
Goldsmith became known for being the bad guy. "I was usually carried off dead. I got killed all the time. All I ever wanted to do was comedy," he says.
 
There wasn't much laughing in Goldsmith's roles, and sometimes there was pain to match the Wayne experience. He appeared in many episodes of "Gunsmoke," which cost him six cracked ribs and back pain that he feels to this day. He once worked with Dustin Hoffman.
You must be logged in to post a comment.
Log In If You're Already Registered At Cigar Aficionado Online