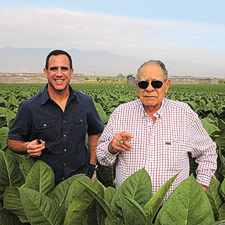 Father and son, José O. Padrón (right) and Jorge Padrón survey a field of Cuban-seed tobacco that is destined to bear their name.
A Conversation with the Padróns
José Orlando Padrón, Chairman Jorge Padrón, President
(continued from page 5)
Q: We were smoking cigars before that were made by one of your finest cigar rollers. You and your father had pulled them from production, because you felt something was just a little off, and you thought it was due to stress he was going through. How is it possible to manage a company where all of your products are made by hand, and therefore vulnerable to the many things that can affect human production?
Jorge Padrón: When you make the number of cigars that we make every day you have to deal with some of these issues. We have very strict quality control steps to make sure we catch those problems. My philosophy on this is when a consumer goes to buy a box of Padróns he can feel confident to pick up the first one he grabs. If we were making 20 million cigars a year, that would be much more difficult to control. We have a family in Miami that runs the business, and we also have a family here that helps us run the business. When you sit down and look at our labor pool, there are many who are related—brothers, sisters, nephews, husbands and wives-being able to understand how important that relationship is to us allows us to maintain consistency in the brand. To have a person work for you for 30 years says something. We're hands-on. We know the names of most of our employees. We deal with them on a regular basis. We're out there walking around. It's a very open relationship.
José Orlando Padrón: One guy makes the Padrón Serie 1926 80 Years and the Family Reserve 44s. He had a problem. The cigars were too tight. I stopped production. We can't risk that.
Q: Why does Padrón Cigars, make only five million cigars a year?
José Orlando Padrón: That way I can maintain quality and not rush the tobacco. Here we have 500,000 pounds of tobacco. The important thing of a brand is consistency. You have to have some reserve. When you start getting above that, it's hard to maintain the blend. It's not about quantity, it's about having control.
Q: Jorge, what have you learned from your father about making great cigars?
Jorge Padrón: When I look at my father, it's a combination of things. It's not just about making cigars. It's about how you treat people, it's about showing loyalty to your employees, which your employees always will return to you. And that's what I see evident in Padrón Cigars. My father has stuck to his philosophy from day one, making the best cigars possible, and the only way that can be accomplished is if everyone is on the same page. The attention to detail and the attention to quality starts with the philosophy my father has put forward, but it's actually executed by the people that we employ. He constantly reminds me that we have our family in Miami, and we have our family in Nicaragua. He really considers those people family.
Q: How big is that family in Nicaragua?
Jorge Padrón: We have close to 400 employees in the factory, and during the growing season that number jumps to 800, 900 people. It's incredible when you look at our employees in Nicaragua how many of them are actually second and third generation employees of Padrón Cigars, or Tabacos Cubanica, which is our manufacturing company in Nicaragua. Of his first four original employees when he started in Nicaragua in 1970, two still work in the company. To me, that's mind-boggling.
Q: You were part of your family's business from an early age. Did you always know you would be part of the business?
Jorge Padrón: All of us have worked in the family business. My brother Orlando has worked in this business since he was a young teenager, my sister Elizabeth, my sister Lissette, and my cousins. My father has never been someone who has forced us to work in the family business. When you come to Padrón Cigars you can tell everyone is there because that's what they want to do. Was I raised around it my entire life? Absolutely. Was I forced to smoke a cigar or start working in the business? Absolutely not. The choice was mine. And I will do the same thing with my children.
Comments
2 comment(s)
Brian Emerson — El Paso, Texas, USA, — November 28, 2010 7:50pm ET
---
Robert Martin — Flushing, New York, Queens, — September 30, 2011 6:05pm ET
---
You must be logged in to post a comment.
Log In If You're Already Registered At Cigar Aficionado Online