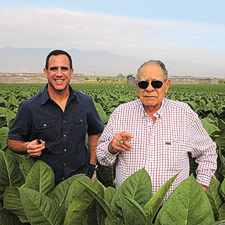 Father and son, José O. Padrón (right) and Jorge Padrón survey a field of Cuban-seed tobacco that is destined to bear their name.
A Conversation with the Padróns
José Orlando Padrón, Chairman Jorge Padrón, President
(continued from page 4)
Q: A factory that will be separate?
Jorge Padrón: That will be separate from Padrón.
Q: What about the brand name José Piedra that you own? You once made cigars under that name.
Jorge Padrón: We haven't done anything with José Piedra. That's in a holding pattern right now.
Q: What's the first thing you would do if the Cuban embargo is lifted?
Jorge Padrón: I don't know. So many things have to happen for that to occur. It's hard to say. Obviously, a company like ours, with our history and tradition, we would certainly be very interested in going in and investigating the opportunities. But it would have to happen on our terms. We're not going to run. We're going to do it right. We're going to do things the way we're used to doing them, one step at a time. We've worked too hard to build this brand to blow it.
Q: Have you ever tasted the combination of your tobacco and Cuban tobacco?
Jorge Padrón: Never.
Q: How do you think it would taste?
Jorge Padrón: In my opinion, our cigars compete with Cuban cigars. You have great Cuban tobacco and you have bad Cuban
tobacco, just like you have great Nicaraguan tobacco and bad Nicaraguan tobacco. The important thing is to get the right tobacco.
Q: You don't have an aging room in your factory. Most people make cigars, put them in an aging room, let them sit for a month or so. You guys don't do that.
Jorge Padrón: We don't have an aging room. The consumer makes the final call. I don't expect a consumer to spend $15 on a cigar and have to sit on it for two years. My job is to sit on the tobacco for 10 years or five years, your job is to smoke it as soon as you want to smoke it. What's the point? That's like buying a BMW motorcycle and you have to keep it in your garage for two years before you can ride it. What's the point? These are not inexpensive cigars—they're worth the price, and there's a lot of effort put into the cigars to make them worth that price.
Q: You have a great deal of tobacco in storage.
Jorge Padrón: We have over 150,000 square feet of warehouse space. This allows us more space to accommodate tobacco. We like to stockpile tobacco to ferment. For us, you can never have too much tobacco. We have enough tobacco for four or five years of production at any given time. Tobacco can be great in the field and you can screw it up in the barn. There are myriad problems you can have.
Q: Does tobacco ever come in and you realize this just won't work? I can't use it to make cigars?
Jorge Padrón: We've had tobacco from certain farms that we have turned into scrap and used as fertilizer. I'm not talking about the whole crop-I might be talking about a priming, or a specific plot, where we say we're never going to use this. We're better off using this as picadura [short-filler tobacco] or fertilizer. The way we ferment our tobacco, the tobacco suffers a lot. You end up breaking a lot of leaves. And sometimes we even have pilones [tobacco stacks] that rot because of over fermentation. My dad says that's the cost of doing business. He'd rather lose a pilon because he over ferments than to put one through that he under ferments. He's not afraid. He knows. Part of fermenting tobacco the right way is, inevitably, you're going to have some times where you might take one too far and you lose it.
Q: The fermentation, that's where the real magic happens with Padrón cigars, right?
Jorge Padrón: You have to know when to say when.
Q: When is the right time?
Jorge Padrón: I can't tell you that. (laughs)
Comments
2 comment(s)
Brian Emerson — El Paso, Texas, USA, — November 28, 2010 7:50pm ET
---
Robert Martin — Flushing, New York, Queens, — September 30, 2011 6:05pm ET
---
You must be logged in to post a comment.
Log In If You're Already Registered At Cigar Aficionado Online