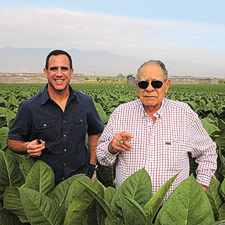 Father and son, José O. Padrón (right) and Jorge Padrón survey a field of Cuban-seed tobacco that is destined to bear their name.
A Conversation with the Padróns
José Orlando Padrón, Chairman Jorge Padrón, President
(continued from page 3)
Q: And what do you focus on at the back of your mind through all this? What's the driving message?
Jorge Padrón: The integrity of our family name. The integrity of the name and understanding all these sacrifices he mentioned. It's the respect of the brand first.
Q: Jorge, what type of company was Padrón Cigars when you first started?
Jorge Padrón: I had no doubt we had a great product. But it takes time. At the time we were a highly regarded brand, but not at a national level. My father was able to sell cigars in the most difficult market-to Cubans in Miami. The bottom line is we had a great brand when I started there.
Q: I think some would assume it would be easier to sell cigars in Miami, given the number of cigar smokers.
Jorge Padrón: The market in Miami was very demanding. It wasn't like today. In those days a guy would walk in to buy a box of cigars and I might show him 20. I would bring at least six or seven boxes for him to look at. Today most consumers walk in, buy a box and then leave.
Q: When did you do that, sell cigars to the customers?
Jorge Padrón: I've done that my whole life. In a family business, you do a little bit of everything. If a customer came in and there was nobody at the counter, I took care of him. When I graduated and I got my degree and started working for the company full time, the company was already 28 years old. My father had sold almost 100 million cigars. It's not like we were trying to reinvent the wheel. Padrón was an established brand, well recognized in the Cuban community in Miami. When I came on board, we started selling to retail stores. I felt we could create something that was different, that could enhance the brand. Back then, the marketplace wasn't what it is today. In those days, you had either very strong cigars or very mild cigars. I think the Anniversary Series changed the landscape of the marketplace in the U.S. market from a taste standpoint. I just think it was a very refined taste.
Q: It's not a strong cigar, and it's certainly not a mild cigar.
Jorge Padrón: That's what we say all the time. Strength is just one trait in a cigar, but it's by far not the most important part. There are people out there who like smoking strong cigars, and that's fine. You can have a cigar that is deceptively strong but very flavorful, and that's what we go for. We're going for flavor. When you ask my father about a cigar, he says either it's good, esta bueno, or it's not good, no esta bueno.
Q: I bet your father is a pretty tough judge of cigars.
Jorge Padrón: Listen, my dad is a lover of cigars. So if someone gives him a cigar that he likes, he'll tell him. He doesn't smoke other people's cigars, but if someone gives him one he'll smoke it out of respect. He's very honest. He doesn't play games.
Q: What is the philosophy of Padrón Cigars?
Jorge Padrón: It's simple. It's making a consistent commitment to making the best quality products available. Never compromising. We're not afraid to cut back production if we don't have the tobacco we need. This is not a numbers company. This is a company that produces quality. During the Civil War when we didn't have access to tobacco, he went from 6 million cigars in 1980 to 2 million in 1985. In today's business world, a person like my father, he would be fired. People would try to substitute. You can't get tobacco from Nicaragua? Get it from the Dominican Republic. If he had done that, he would have ruined the brand. My dad was very clear and he was a visionary from my standpoint. That was a very difficult time. Imagine, you're selling 6 million cigars a year and then you're down to 2 million?
Q: It would be disastrous for many companies.
Jorge Padrón: We've been very careful with how we grow our company. We're very conservative, very lean, vertically integrated.
Q: There's a lot of pressure today for companies to come out with new products. You don't go that route. Why?
Jorge Padrón: We're not about to try to reinvent the wheel. At the end of the day we have a very loyal customer. If it's not broke, why fix it? Obviously the markets change, and as a company we have to be prepared to understand the market and the consumers, and we have to adapt, and that's what we've done. When we started selling cigars at the national level in 1993, a lot of people thought our cigars were too strong. Most of the cigars that were being sold were much lighter in flavor. Our cigar, with a sun-grown wrapper, there were very few of them at the time. It's funny, because over time that has changed. Now you have a lot of consumers who are willing to experiment. Back then, it wasn't like that.
Q: Earlier today we looked at new construction near your main operations here in Estelí. You're making warehouses and might even be building a new cigar factory where you're considering making cigars under a name other than Padrón. Doesn't that run counter to your philosophy on making cigars?
Jorge Padrón: The biggest thing we've always said is it's difficult to make more than one brand in one factory. To this day, we really only have one brand with three lines in it. We also have a very controlled production-with the expansion, not only is it going to be for production, it will help us sort more tobacco. The No. 1 reason is to have storage space for tobacco and to build another factory. There, we'll be able to make new brands of cigars.
Comments
2 comment(s)
Brian Emerson — El Paso, Texas, USA, — November 28, 2010 7:50pm ET
---
Robert Martin — Flushing, New York, Queens, — September 30, 2011 6:05pm ET
---
You must be logged in to post a comment.
Log In If You're Already Registered At Cigar Aficionado Online