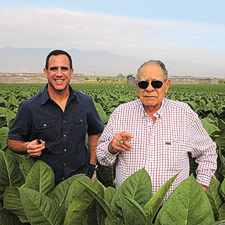 Father and son, José O. Padrón (right) and Jorge Padrón survey a field of Cuban-seed tobacco that is destined to bear their name.
A Conversation with the Padróns
José Orlando Padrón, Chairman Jorge Padrón, President
(continued from page 2)
Q: You never opened in Costa Rica, but you did go to Honduras. What changes did you make while you made cigars in Honduras?
José Orlando Padrón: I never used Honduran tobacco. That's why I had to cut back production. My philosophy was it was worthwhile to maintain quality.
Q: You weren't getting more Nicaraguan tobacco from across the border?
José Orlando Padrón: No. I wasn't making 5 million cigars a year when I moved to Honduras. Production went down. I never wanted to vary the blends in our cigars.
Q: Were you losing money while you were in Honduras?
José Orlando Padrón: I've never lost money in this business. To run a business is a very important thing. It's almost like an art. I wasn't making what I was making before, but the company never lost money. Another very difficult time was in the early '80s. The embargo still hadn't taken effect, but I was up in Honduras and Nicaragua. At one point there was a plot to kidnap me. When I was in Nicaragua, I would live in the factory. I had a small room in my office.
In Honduras, it was the same. This is a true account of exactly what happened. One day I get a call from Tegucigalpa [Honduras]. "Don Orlando, I need to speak to you, but I can't do it over the phone." A woman had gotten on a bus in Danlí and there were two men holding a bag. They asked her what time the bus leaves. One of the guys said to the other, "Let's go have a beer." The bus leaves without them, and they never took the bag. When this woman got to Tegucigalpa, she opens the bag and sees what's inside: two passports and the layout of my factory in Danlí, with information on where I slept. It had a description of all my movements, when I would leave-everything. They were Nicaraguan nationals. I went to the equivalent of the FBI in Honduras, I came to Nicaragua and showed a security person and I also went to the FBI in Miami.
Q: What happened?
José Orlando Padrón: We still have the passports in my safe in Miami. One day one of the two men was found dead, five bullet holes.
Q: What happened?
José Orlando Padrón: I don't know. I think he was just a delinquent.
Q: And the other guy?
José Orlando Padrón: They never found him.
Q: Did you hire guards after that?
José Orlando Padrón: No. But I did install a remote control starter on my car, change my routes and put cameras at the house. I changed a lot of things that I did. Thank God I'm still alive right now. The most important lesson in all this is to have as few enemies and as many friends as possible.
Q: Was this your darkest hour?
José Orlando Padrón: No. I believe the day that I die is already marked on the calendar.
Q: Jorge, I ask you the same question I posed to your father: What has been the biggest obstacle you have faced in your years of making cigars?
Jorge Padrón: We're lucky. My generation hasn't had to face the same problems-the fires, the bombing, the starting of a company from scratch. What kind of challenges have I faced like that? Nothing. My challenges are all different. Improving on what has been done. It's trying to understand and appreciate what my father did, and all the sacrifices are worth it. Growing the company. Having the restraint to ensure that it doesn't get compromised.
Comments
2 comment(s)
Brian Emerson — El Paso, Texas, USA, — November 28, 2010 7:50pm ET
---
Robert Martin — Flushing, New York, Queens, — September 30, 2011 6:05pm ET
---
You must be logged in to post a comment.
Log In If You're Already Registered At Cigar Aficionado Online