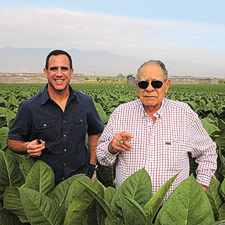 Father and son, José O. Padrón (right) and Jorge Padrón survey a field of Cuban-seed tobacco that is destined to bear their name.
A Conversation with the Padróns
José Orlando Padrón, Chairman Jorge Padrón, President
(continued from page 1)
Q: Moving it to other places, to spread the risk?
José Orlando Padrón: Yes. In Managua I had 300 bales.
Jorge Padrón: He didn't want to have it all in Estelí.
José Orlando Padrón: There was another lot of tobacco we had in Condega. Then I had another 200 or 300 bales in Estelí. In July of 1979, the revolutionaries took over Nicaragua. At that point, Leonardo Lainez, who was our accountant, under gunfire in Managua moved 300 bales of tobacco to the airport where they left on a cargo plane to take it to El Salvador, from there to Puerto Cortez [Honduras] and then to Tampa. The bales that we had in Condega we moved over the border to Honduras.
Q: How? With trucks? Was it difficult?
José Orlando Padrón: I had a few people who did that for me. The bales that were here in Estelí the employees protected. The only thing I lost from that factory was a little scale that I used to weigh tobacco.
Jorge Padrón: Estelí was one of the worst places in terms of fighting during the war.
José Orlando Padrón: After the triumph of the Sandinistas, the employees here went on strike. I had a makeshift factory in Honduras.
Q: This happened before the U.S. embargo on Nicaragua.
José Orlando Padrón: Yes. All of this is happening before the embargo. The employees were working by themselves, alone.
Q: For how long?
Jorge Padrón: For one year.
José Orlando Padrón: They would make the cigars and ship them to Miami. I would send the money, but it was too dangerous [to come.]
Q: Why?
José Orlando Padrón: I wasn't afraid of the people of Estelí, but others who didn't know me, who might have different agendas.A year after that, one of our employees sent me a letter requesting that I come back. They were running low on raw material. I said, "I'll go, but I want to make sure the commandante of the Sandinista army in Estelí is there." His name was Elias Noguera. The day I arrived, all the employees were present, along with Noguera. I asked him, "I came here to find out if I'm going to be accepted here in Nicaragua, or not." I said "All these people who are gathered here today are here because of what we've done at Tabacos Cubanica. Families who depend on us. If you feel I won't be accepted or welcome, I'll leave the factory, and I'll leave it to them." He said "Don't worry-you'll have no problems in Nicaragua. You're a person who has not been involved in politics." I told him "All the farms are controlled by the Sandinistas. I need to know if I can continue to have access to raw material in Nicaragua." And that's how I was able to function up until 1985. On April 20, 1985, President Regan declared an embargo on Nicaragua. I was in Miami.
Q: What did you do?
José Orlando Padrón: The embargo said U.S. citizens had seven days to remove all property from the country. I tried to get an extension from the U.S. government. The Department of the Treasury allowed me until September. We took out between 4 and 5 million cigars in a short time span—we were working day and night.
Q: And that amounted to about one year's production for you at that time?
José Orlando Padrón: It was not enough. At that time I was selling 5 or 6 million cigars a year in Miami alone.
Q: Did you shut the factory in Nicaragua?
Jorge Padrón: The factory kept operating as long as it could, but it had to close.
Q: How long was it closed?
José Orlando Padrón: Five years, from 1985 to 1990. I told the employees, "Do what you can," and I kept sending them money from Miami.
Q: What happened to Padrón during the war?
José Orlando Padrón: We used to make 6 million cigars a year in Miami. When the war came we had to go down to 2 million because we didn't have the tobacco.
Comments
2 comment(s)
Brian Emerson — El Paso, Texas, USA, — November 28, 2010 7:50pm ET
---
Robert Martin — Flushing, New York, Queens, — September 30, 2011 6:05pm ET
---
You must be logged in to post a comment.
Log In If You're Already Registered At Cigar Aficionado Online