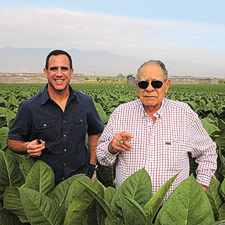 Father and son, José O. Padrón (right) and Jorge Padrón survey a field of Cuban-seed tobacco that is destined to bear their name.
A Conversation with the Padróns
José Orlando Padrón, Chairman Jorge Padrón, President
In September 1964, Cuban émigré José Orlando Padrón started a cigar company in Miami. His goal was modest and understandable: he wanted to make a cigar that reminded him of the smokes he enjoyed in Cuba, his former home. The road was long and difficult, interrupted by war, embargo and even a failed plot to abduct him from his cigar factory, but 46 years later Padrón's company is a leader in the world of premium, handmade cigars. His products have been named Cigar Aficionado's Cigar of the Year three times out of six contests and have never failed to place in the top three. At the age of 84, the patriarch and chairman of Padrón Cigars now works side by side with his 42-year-old son, Jorge, the president of the company.
Senior editor David Savona spent time with the Padróns recently in Nicaragua, touring their fields, factory and tobacco warehouses, smoking cigar after cigar, and sat down with Jorge and his father for a long and wide-ranging conversation about the long journey from fledgling company to industry standout. Jorge translated the portions spoken by his father.
David Savona: Señor Padrón, what has been the biggest obstacle you faced in all your years of making cigars?
José Orlando Padrón: The biggest obstacle I feel I faced was in May of 1978, when there were already problems in Estelí [Nicaragua] because of the pending war. I was going to Costa Rica. There were so many problems in Nicaragua, I was analyzing the possibility of opening a factory there. On May 24, 1978, Caesar Gadea Sr. called me at the hotel in Costa
Rica and said "Don Orlando, it's over." They burned the factory down on the 24th of May. They burned the factory and the warehouse in Estelí.
Q: So he meant your business was over?
José Orlando Padrón: Yes. The day they burned down the factory, the next day I came back to Nicaragua, to Estelí. During that time there was rioting, there was a lot of uncertainty. That day there were 18 buildings set ablaze.
Q: It must have been frightening.
José Orlando Padrón: Those moments are the moments men have to fill themselves with courage. In the face of that is when you find a person's character.
Q: Was your factory insured?
José Orlando Padrón: I had insurance, but not enough to cover the damages. I had the good fortune that many of the people who worked with us helped us and cooperated with me. A little more than 30 days later, I opened up a smaller factory in a house we had rented. I was fortunate enough that I didn't have all my raw material in one warehouse. I had it all throughout Estelí. There were people who were able to salvage some bales as [the factory] was burning. I gave a thank you gift of money, thanking them for returning it. After the fire, I went and I bought a lot of raw material, and I sorted and deveined the tobacco myself.
Q: When did you open the new factory?
Jorge Padrón: June 26, 1978.
Q: What happened then?
Jorge Padrón: After that, things really got bad in terms of war in Estelí. A lot of the employees would tell him, "Don Orlando, get out—the boys are coming."
Q: Who were the boys? The Sandinistas?
José Orlando Padrón: The rebels.
Q: Did you ever fear you would be killed?
José Orlando Padrón: I thought about a lot of things, but what other alternative is there? You just keep going forward. Having gained the experience of the fire, I started separating tobacco even more.
Comments
2 comment(s)
Brian Emerson — El Paso, Texas, USA, — November 28, 2010 7:50pm ET
---
Robert Martin — Flushing, New York, Queens, — September 30, 2011 6:05pm ET
---
You must be logged in to post a comment.
Log In If You're Already Registered At Cigar Aficionado Online